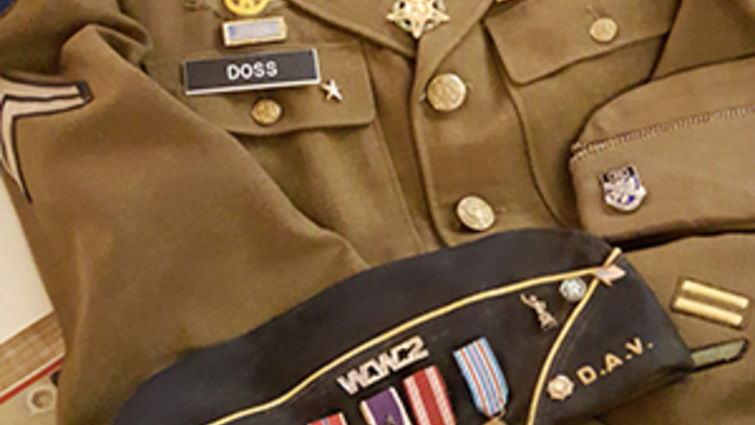 The news was surprising to many in the film industry -- Hacksaw Ridge, a movie directed by Mel Gibson, had received a 10-minute standing ovation after it debuted at the Venice Film Festival. Hacksaw Ridge tells the true story of Desmond Doss, an army medic who, during the bloodiest battle of WWII, rescued 75 men without firing a gun.
A Seventh-day Adventist who believed he should not take a life, Doss was the only American who fought on the front lines during WWII without a weapon. He was also the first conscientious objector to be awarded the Congressional Medal of Honor.
The movie, which has made more than $120 million and has been nominated for dozens of awards, including Golden Globe Awards, is in the international headlines again today. It just won nine Australian Film Awards and has been named "Film of the year" by the American Film Institute.
The week before Hacksaw Ridge opened to the public, friends of Loma Linda University Health attended an event celebrating the life Desmond Doss. The event included a screening of the film and was hosted by Loma Linda University alumni Brad Baum, MD, and Carla Lidner Baum, DDS, MS.
After the screening, "People called and texted," says Carla Baum. "Everyone really loved the screening and I learned that some people hadn't heard details about Vision 2020. I'm glad that the Riverside community connected with Loma Linda University Health in such a great way."
As part of the campus transformation project, Doss and other members of the military who served honorably will be recognized in a special garden area.
The public is invited to view an exhibit of selected items from Doss's own collection at Loma Linda University Health. The exhibit includes his decorated uniform, the Congressional Medal of Honor and other awards he received during his lifetime. The memorabilia is on display at the Heritage Research Center in the Del E. Webb Memorial Library, 11072 Anderson Street, Loma Linda.
The personal items are part of a collection that belonged to Doss that was donated to Loma Linda University Health. Learn about the story of Doss's connection to Loma Linda University Health here.