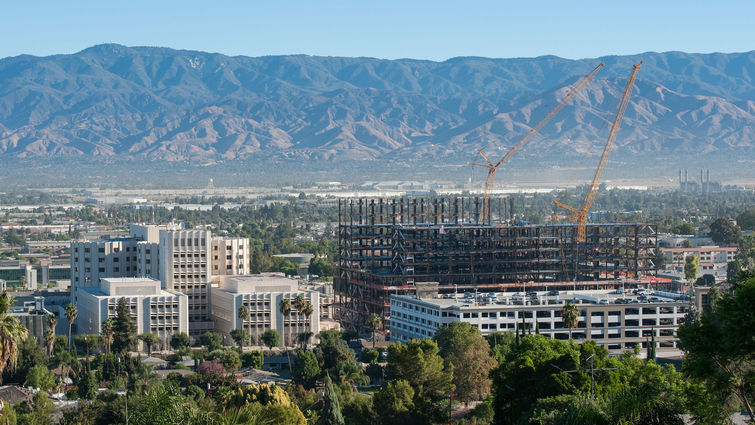 Two major milestones in the Loma Linda University Health hospital construction project occurred during the week of August 27.
The final steel columns for the west section of the Children's Hospital tower have been placed, reaching a height of nine stories. The remainder of the steelwork for the Children's tower will move from west to east, including placement of the ceiling girders. When this fill-in phase is completed, the Children's tower will be topped out.
Steel columns placed at the west end of the Adult Hospital now are taller than the vertical elevation of the existing Medical Center. The tallest columns in place reach to roughly the ninth floor of the tower, which will be 16 stories when completed. Steel placement on the Adult Hospital will continue through the rest of the year, with topping out of the taller tower expected in December.
Work on the structure's lower floors is moving into the interior build-out phase, with mechanical, electrical, plumbing and framing work placed according to plan. As the towers reach their final height, more of the work will be focused on completing each floor's interior.
The ongoing construction, which began approximately two years ago, is a part of Loma Linda University Health's Vision 2020 – The Campaign for a Whole Tomorrow. New buildings for both hospitals will meet and exceed California's upcoming seismic requirements for hospitals. Also, the Inland Empire region's health care needs have rapidly increased. As the only Level 1 Regional Trauma Center in the Inland Empire and only dedicated Children's Hospital, the new facilities will allow Loma Linda University Health to meet the growing needs of its community.
You can follow the rise of the towers on a daily basis by checking the construction web cams.
We're sharing photographic updates of the hospital construction work on a periodic basis. Watch for special emphasis on some of the behind-the-scenes-views and untold stories at the Vision 2020 website.
This vignette is adapted from a blog by Dennis E. Park, which appears on the website http://www.docuvision2020.com/.