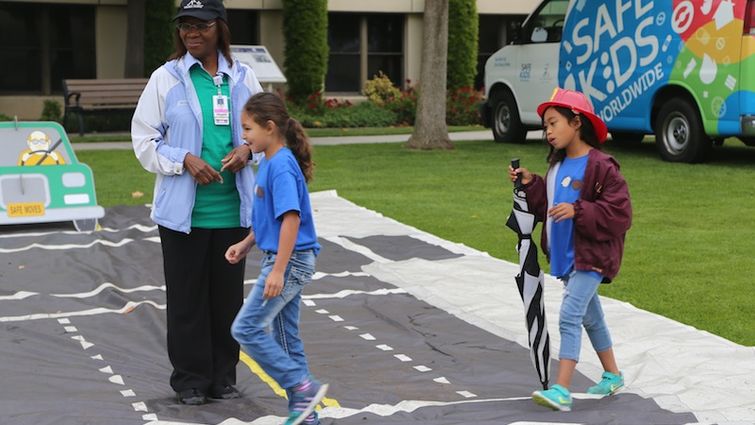 The sun didn't shine, but over 1,500 kids would agree it was not too wet to play. Kids ages 3 – 8 and their chaperones took over the Loma Linda University Health campus lawn beneath a cloudy, drizzly sky Wednesday, May 10 for the 32nd annual Children's Day, sponsored by Farmer Boys.
Clusters of kids cycled through a series of activities and demonstrations that offered insight into the world of health care. The teddy bear and doll clinic — clearly the largest and most popular — simulated a doctor or hospital visit where the doll or stuffed animal was the patient and the child was the doctor.
The figurines were registered, measured and weighed before getting their blood pressure taken. Kids got to wear a stethoscope to listen to the patient's heartbeat, and the final step in the visit was getting a shot – a ritual most kids fear.
Dorothy Brooks, of Loma Linda University Children's Hospital's child life services said one goals of the event is to help kids realize that a hospital is a place to help them when they need it.
"Most kids associate pain with a hospital," Brooks said. "The teddy bear clinic is just one way to help them understand what is happening so they can learn to trust doctors and nurses."
In addition to the clinic, kids also rotated through the stitch station, highlighting why a bandage won't always work; and the finger casting station to show them an example of what might happen if they get hurt under their skin.
"Our purpose is to teach these kids what is going on with their bodies, what happens when they get injured and how long it may hurt," Brooks said.
A big part of the event focused on prevention.
A recent Safe Kids Worldwide study claims 50 kids end up in the emergency room every hour because they're not wearing the proper safety equipment while riding a bike, skateboarding or rollerskating.
Michelle Parker, coordinator of Safe Kids Inland Empire, said these injuries are preventable. "Parents need to take control and instill rules that will teach kids to be safe when they are playing outside," she said.
Safe Kids made their presence at Children's Day with a street safety activity allowing kids to walk through a simulated crosswalk, led by a volunteer, illustrating the dangers that can occur in something as simple as crossing the street.
"Knowledge is power, and if we can educate kids and their parents about safety, then we can eliminate lot of these preventable injuries," Parker stated.
Other Children's Day presentations focused on dental care, nutrition, fire safety, and snakes and venomous creatures.
The event was supported by over 200 volunteers from Loma Linda University Health and community members.