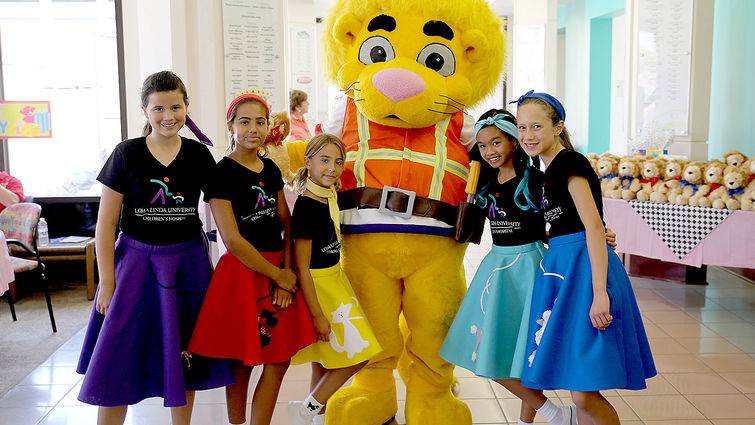 Members of a hardworking Southern California charity have raised more than $7.5 million and devoted countless hours during the past 19 years to making life better for the patients of Loma Linda University Children's Hospital.
To do that, members of the Big Hearts for Little Hearts Guilds employ two tactics. First, they host playtime activities for patients in the hospital lobby. Second, they hold community events to raise funds and awareness.
Playtime activities bring great satisfaction to guild members and the children they serve. The annual summer birthday party for hospital mascot Luke the Lion affords a glimpse of how fun helps kids heal.
On the appointed day, guild volunteers arrive early to decorate tables, hang banners and posters, arrange books and toys for patients to choose and keep, and set refreshments out before patients/guests arrive.
Once they do, Luke ambles into the room in his trademark yellow suit. His task is to create an atmosphere of merry camaraderie by hugging, high fiving or waving at every kid in sight.
As Luke works the room, Lioness, a group of singing schoolgirls, sashays into place, swirling poodle skirts and ponytails to popular songs of the 1950s. When they take a break after 25 minutes, guild volunteers help young Picassos create masterpieces in crayon, glitter and paint.
Dina Evans, MS, CCLS, Children's Hospital manager of child life and language services, says the event is a respite from the uncertain and unknown hospital world for Luke's 30 or 40 youthful guests.
"Play is a vital part of the healing process," Evans says. "Whether kids are coloring, listening to music or partying with Luke, their stress levels are falling and their immune systems are getting stronger. They may have been worried about surgery or a new diagnosis when they entered the room. But once they start playing, kids forget their troubles. It's all about healing and recovery. It's not just fun and games."
"Play is a vital part of the healing process."Dina Evans, MS, CCLS
Guild community events draw attention to the fact that Children's Hospital serves 1.2 million California kids. Funds raised at cooking schools, fashion shows, 5K runs and similar events finance special projects and help the guild meet emergency needs.
Recently, crib mobiles and electric rocking chairs, which nurses on the neonatal intensive care unit rely on to comfort premature babies, suddenly stopped working. The nurses notified pediatric surgeon Donald C. Moores, MD, whose wife, Penny, is the Loma Linda Guild treasurer.
"The guild promptly bought a raft of new mobiles and eight automated rockers called mamaRoos," Moores said. "I love Big Hearts!"
"I love Big Hearts!"Donald C.Moores, MD
Founded in 1999 by Eloise Hakekost, Nancy Varner and Dixie Watkins, the Big Hearts guilds currently comprise four separate branches, one each in the Desert, Loma Linda, Riverside and Temecula Valley.
"From the beginning, we realized that having guilds in several different places would multiply our opportunities to make a positive impact, both in friend-raising and fund-raising, for our incomparable Children's Hospital," says tireless founding President Watkins. "It's gratifying to see the four guilds working together."
"It's gratifying to see the four guilds working together." Dixie Watkins
Susan Linsk, Desert Guild president, says the vision of co-founders Shirley N. Pettis and E. Jane Woolley, MD, inspires members today. Pettis, a two-term member of the U.S. House of Representatives, died in 2016, while Woolley, an anesthesiologist, still serves on the board. The guild recently created The Woolley-Pettis Endowed Chair for Pediatric Research at Loma Linda University Children's Hospital.
The Desert Guild's 186 general members and 28 board members host 12 events per season.
Linsk says the hospital's commitment to enriching the lives of Desert children is why guild members work so hard. "It's so exciting to support life-changing efforts, which enable children to triumph over severe medical challenges," Linsk said.
The Loma Linda Guild is the largest of the four guilds, with 210 general members and 15 active board members. Two-term President Lynn Sleeth says the organization sponsors 10 annual events, including Luke the Lion's birthday party.
"If we can provide a little joy, a little love, a little hope and a little assistance to our sweet patients, we've succeeded in living up to our name," she says.
Sleeth needs just three words to explain her dedication to the guild: "I LOVE kids!"
Barbara Robinson, Riverside Guild president, reports that the 8th annual Jazz in the Garden event in May 2018 raised more than $38,000 for Children's Hospital. The guild also hosts an annual membership luncheon and will soon launch a lecture series.
"We want people to feel a part of Loma Linda and the guild," Robinson said.
The Riverside Guild, with 118 general members and 12 board members, was founded in 2010. Robinson served on the original guild board in 1999 and remains a passionate advocate for Children's Hospital.
"It is a wonderful place and worth all of our support," she says.
Not only is the Temecula Valley Guild the newest of the four guilds, it was also the first to birth a Junior Guild. Founded in 2012, Temecula Valley boasts 30 general members and 10 board members. The 25-member Junior Guild provides leadership opportunities for talented high school students.
President Christine McCusker says Temecula Valley Guild will kick-off the 2019 season in September with a focus on two major projects: Trees of Hope, which will take place in the Loma Linda University Medical Center - Murrieta lobby this holiday season, and Hearts of Hope, which will launch at the membership tea in February.
"We look forward to increasing our presence in the valley and building lasting partnerships," McCusker says.
"They embody a special connection to the children they serve . . ."Scott Perryman, MBA
Scott Perryman, MBA, senior vice president and administrator of Children's Hospital, is a strong supporter of guild activities. He regularly comes out on Sundays and evenings to assist with the Family Fitness Fun 5K and Expo, Carols in the Lobby and other events.
"We owe so much to our guilds who work tirelessly for the children we care for," Perryman said. "They embody a special connection to the children they serve in their communities, and to our hospital."