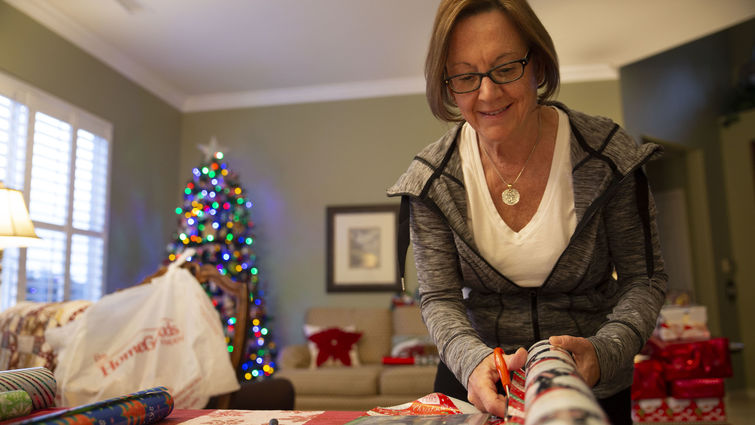 For the last 28 years, Loma Linda University Children's Hospital nurse Alane Allbee has been giving more than just bedside care to her patients — she's granting wishes. Each year, Allbee and her staff select a handful of chronically or terminally ill pediatric patients and bring to them the "Spirit of Christmas."
"We pretty much provide an entire Christmas for these families," Allbee said. "We get gifts for each patient we select and their siblings. For some, it may be their last Christmas."
In November, Allbee notifies the chosen families that they have been selected for the "Spirit of Christmas," and the kids complete a wish list she refers to when shopping. In addition to the wish lists — usually composed of toys and electronics — every child gets pajamas, slippers, a winter coat and a Bible. "I try to get everything on the lists," Allbee said.
Through the process, Allbee sometimes learns that families have a greater need beyond the wish list, such as blankets, pillows, dishes, groceries and other household necessities.
"One 17-year-old patient had never had a Christmas tree," Allbee said. "So even though we were done shopping, we went back out and got an artificial tree, lights, ornaments and a tree skirt. Kids deserve to really experience the simple details of the holiday."
Despite the fact Albee does not actively fundraise for this endeavor, she said the donations always come. "God provides it. I don't ask for it, it just comes," she said, adding that her family members often donate. "I shop on faith a lot of times."
This past Christmas, Allbee had over $7,000 to use for gifts for each patient and their siblings — a total of 16 kids.
Once all the gifts were purchased, Allbee hosted a very organized wrapping party at her home where coworkers, family, friends and neighbors came out to help with the wrapping. The following day, they regrouped with Santa for a day full of deliveries.
Why does she do this? Allbee said it's just one way to show God's love.
"If I'm able to show these kids how much they are loved, it can change their perspective of the future," she said. "In addition to the patients, we want to affect the siblings so maybe one day they will pay it forward and make an impression that will last a lifetime."