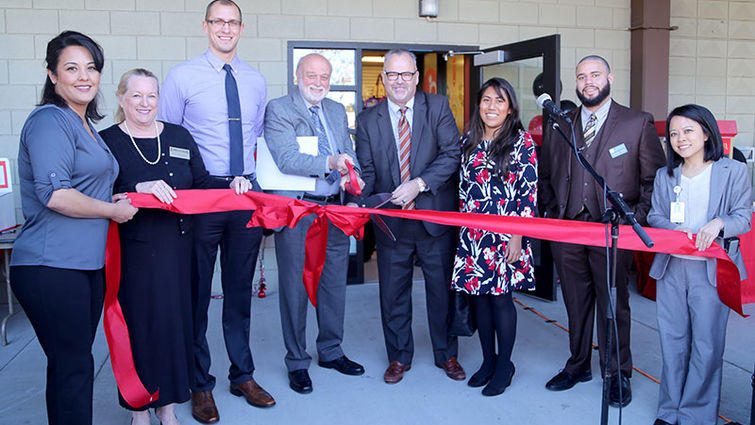 Enthusiastic supporters crowded the sidewalk and cordoned-off sections of the parking lot in front of Digital Production Ink (DPI) to help the organization celebrate its grand opening, which was held Tuesday, January 25.
After a brief ceremony in which Loma Linda University Health officials joined political leaders and community representatives in marking the importance of the occasion, Richard H. Hart, MD, DrPH, president, cut the ribbon to a chorus of applause and cheers.
As guests then entered the retail space of the then-newest business in Loma Linda, employees handed out bags of popcorn as well as drinks, business cards, and other promotional favors.
A note on the organization's website—accessible online at https://dpi.llu.edu/about-us—points out that "Digital Production Ink serves the graphics, mailing, and printing services needs for Loma Linda University Health and the surrounding community." It adds that one-on-one customer service helps ensure quality, and says customer satisfaction is the goal.
DPI offers high-volume copying, digital offset printing, large-format printing, laser engraving, and embroidery services. That means customers needing to have a book, sign, or letterhead created and printed will find one-stop shopping along with those who only need to have their driver's license copied and faxed. Plus, the store offers notary services, mail box rental, and packing and shipping via both USPS and UPS.
Digital Production Ink is located alongside the Loma Linda Market at 11161 Anderson Street, Suite 105, in Loma Linda. The phone number is (909) 558-5192, the fax is (909) 558-0149, and the email address is printjob@llu.edu