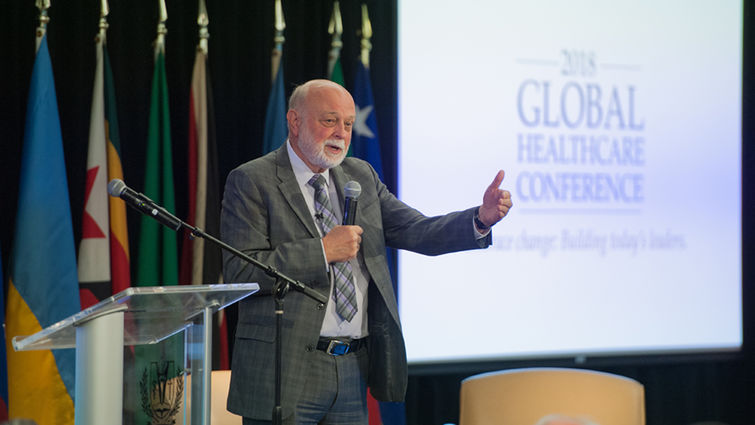 More than 300 Seventh-day Adventist healthcare leaders from 44 countries attended the eighth Global Healthcare Conference, one of Loma Linda University Health's ongoing international initiatives that support the development of the church's healthcare institutions in developing countries around the world.
Held October 18 to 21 in Loma Linda, this year's theme focused on leadership, governance and management issues faced by healthcare organizations around the world. Conference attendees participated in a variety of interactive plenary sessions and breakout workshops intended to increase their knowledge of the various roles and accountabilities for which healthcare institutional leaders are responsible. The weekend also provided a venue for networking and collaboration between institutional leaders and encouraged conversations focusing on practical challenges and solutions they face.
"How do these organizations become more effective and purposeful in sharing the gospel of Christ with this world?" Richard H. Hart, MD, DrPH, Loma Linda University Health president, said in his opening keynote address. "Too often we get caught in the struggle for survival rather than with becoming what God intends for these hospitals and clinics to become. Our goal is to help all of these institutions grow and become stronger."
Conference workshops highlighted many of Loma Linda University Health's top leadership team sharing information from their areas of expertise. The weekend also featured several presentations on hospital governance by Lowell Cooper, MDiv, MPH, who served for 15 years as chair of Loma Linda University Health's Board of Trustees until his retirement from the post in 2016.
The Seventh-day Adventist Church operates 175 hospitals and 450 clinics worldwide.
"I'm often asked why Loma Linda University Health struggles to help support these international institutions," Hart said. "One answer is found through the many mothers, children and families whose lives are saved and made better every day at these hospitals. These institutions also provide employment, train health professionals and give visibility to the Adventist Church in many places around the world.
"There is also a significant impact on the Loma Linda University Health community" Hart added. "If we didn't take advantage of these opportunities to live out our dreams of compassion and caring for others, we would be the less for it. These service opportunities shape the culture of Loma Linda, making it a better place."
The first Global Healthcare Conference took place in 2010 in Honduras and focused primarily on the specific needs of healthcare leaders in Latin America. The conference has been held annually since 2012. During even-numbered years, the conference takes place in Loma Linda. Regional conferences take place during odd-numbered years, with previous events taking place in the Dominican Republic, Cote d'Ivoire and Zambia.
The 2016 conference focused on human resources issues and the challenges of staffing international institutions that face limited financial and social resources. Specific topics included compensation philosophy, budgeting and position control; the cost of employee turnover; and the need for effective employee relations. Hospital leaders from India and Belize reported significant advances have taken place in their institution's human resources efforts thanks to information learned two years earlier.
Collaborating organizations for this year's conference include Adventist Health International, the Consortium of Adventist Medical Education Leaders, the Health Ministries and Education departments at the General Conference of Seventh-day Adventists, and the Loma Linda University Health Global Health Institute.