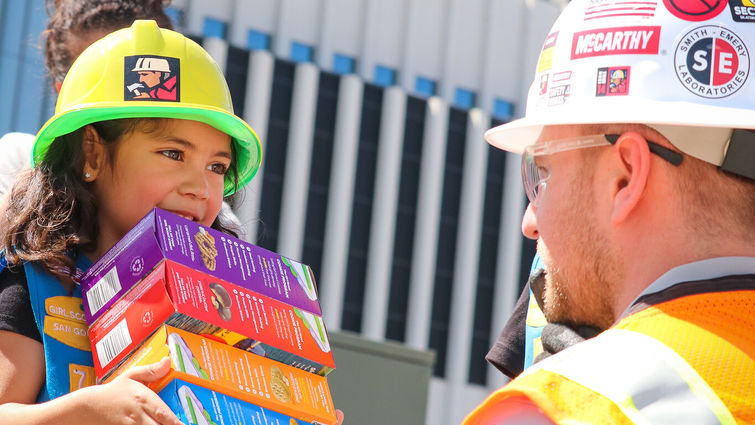 The Girl Scouts Grand Terrace Troop 76 delivered 800 boxes of their famous cookies to construction workers on the building site of the new Loma Linda University Medical Center and Children's Hospital towers, Thursday, April 25. The troop of 14 girls braved 90 degree heat for more than an hour to personally give each construction worker a box of cookies as their way to say thanks for building the new hospitals.
One of the troop's scouts, Ava Firnkoess, 9, said she suggested the activity because she was inspired by the construction workers' dedication and teamwork.
"When we drive past the construction site, the workers are here rain or shine," Firnkoess said. "They're working together to build this hospital for the community, and I wanted to thank them for that."
The troop stationed themselves near the exit of the construction site at the end of the workday. With multiple cookie boxes in their arms, scouts offered a box to each worker that passed, even running to catch those who hadn't noticed them.
The cookie delivery was met with smiles and surprise. Although many workers tried to give monetary donations to the scouts, they always answered with a "no, the cookies are free —we just wanted to say thanks."
Loma Linda Campus Transformation Project Director Eric Hoffman, on behalf of McCarthy Building Companies, said they were touched by the troop's generosity.
"We are extremely grateful to Girl Scouts Troop 76 for their generous donation of 800 boxes of cookies," Hoffman said. "McCarthy, our subcontractors and all of our craft workers are honored by their recognition. It's easy at times to think of what we are building just in terms of concrete, steel and drywall. This was a very heartfelt reminder that this is not just another project." 
The troop was able to donate the boxes of cookies through the support of the Girl Scouts of San Gorgonio Council I Care Program. This program gives people the option to buy a box of cookies and donate it back through "Cookies Share," allowing the troop to take those donations and give it to a charitable organization of their choosing. This program empowers the troops to give back and become more involved in their communities.
To learn more about this construction project, part of Loma Linda University Health's Vision 2020 – The Campaign for a Whole Tomorrow, visit our website.