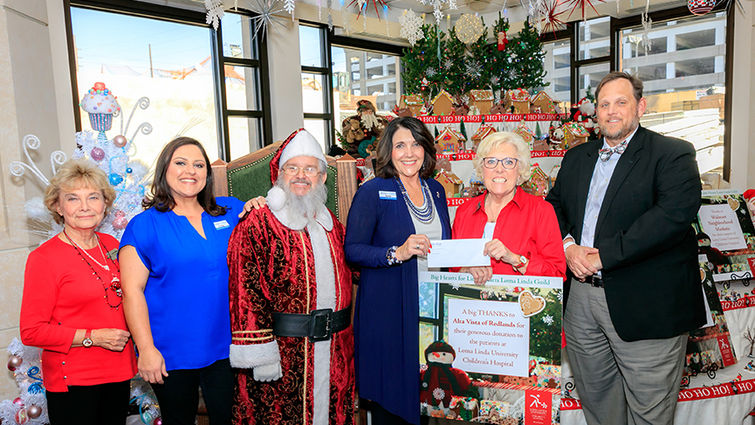 Santa and Mrs. Claus stopped off at Loma Linda University Children's Hospital on Monday, Dec. 4, to help dozens of patients build and decorate gingerbread houses for the annual gingerbread village display in the lobby.
The annual event, which is presented by the Big Hearts for Little Hearts Loma Linda Guild, was made possible this year thanks to the generosity of two community supporters, Alta Vista Credit Union and Costco Wholesale. Susie Jarvis and Amber Astilleros presented Scott Perryman, MBA, senior vice president, a check in the amount of $3,200 from Alta Vista. Ethiam Lewis was present to represent Costco Wholesale. The company donated 131 gingerbread house kits.
Sleeth said that 59 houses were assembled and decorated by patients and guests in the lobby who festooned them with white frosting roofs and assorted, colorful candies. Other houses were sent to patients on the units who could not come down for the event. Whenever a house was completed, Santa or one of his helpers placed it on a large display structure designed to evoke the shape of a Christmas tree. Patients got to take a Teddy bear and the book of their choice.
In thanking Alta Vista Credit Union and Costco Wholesale for their generous support of the event, Sleeth also thanked Jim and Jeannie Durbin, who have volunteered as Santa and Mrs. Claus at the event for more than a decade.
"We are so blessed to have friends who believe in what we are doing for the children of the Inland Empire," Sleeth said. "We are so grateful for their kindness and generosity."