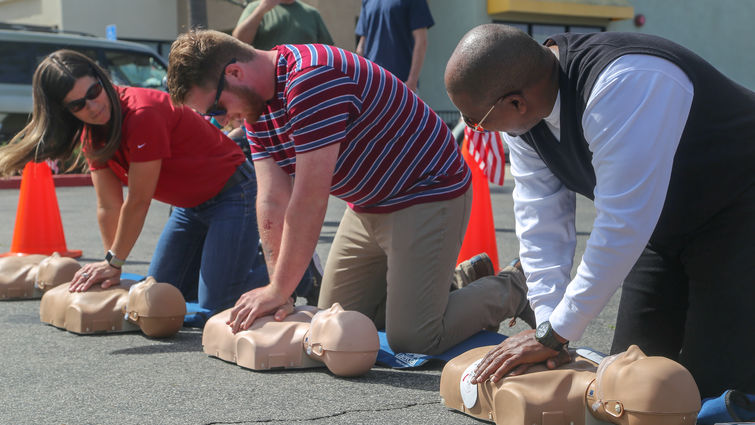 Loma Linda University Medical Center – Murrieta (LLUMC—Murrieta) and Murrieta Fire & Rescue joined forces to host a CPR awareness event at the Murrieta Village Walk Certified Famers market on Sunday, April 14. The event included the presentation of the Life Saving Award to a local hero and CPR training for the community.​
The Life Savings award was presented by both LLUMC – Murrieta and Murrieta Fire & Rescue in recognition to local hero Caleb Barone for administering CPR last year at a local smoothie business where Kevin Pete went into cardiac arrest. ​
Barone was working alone when Pete came into order a smoothie following his workout. Within a few minutes of ordering, Pete collapsed and wasn't breathing. Barone quickly called 911 using his smartwatch and immediately followed with chest compressions. ​
"He wasn't getting oxygen, I knew I had to start chest compressions in some way to help, so I kept a rhythm in my head and did sets of 10," Barone said. "Every time I did a set, he would pull for air which seemed like it was working, although at the time I didn't know if it was correct."​
Barone had no prior CPR training, his knowledge having come from watching movies and a few tips from a friend who was an EMT, but Barone's actions kept Pete's brain oxygenated. When paramedics arrived, they were able to find a pulse and take Pete to LLUMC – Murrieta, where he would make a full recovery. ​
"I have gotten a second chance to appreciate life a little more," Pete said. "I really appreciate that one life can touch another life. I think we can learn from that. You don't have to be a health professional to save lives." ​
According to the American Heart Association, 475,000 Americans die from a cardiac arrest each year, with 350,000 of those occurring outside a hospital. Nearly 40% of those are in a public setting.​
"I always had the mindset that I didn't need to know CPR because nothing like that would ever happen or I wouldn't use it," Barone said. "After this, and realizing how quickly a situation can turn in the most unexpected scenario, I understand the importance of just regular everyday people knowing how to do these things."​
The American Heart Association also notes individuals who do not receive bystander assistance only have a 10% chance of survival. The city of Murrieta reported 99 cardiac arrests last year. ​
"We can bring the chances of survival up, but it has to be a community effort," said Jennifer Antonucci, Emergency Medical Services Coordinator, Murrieta Fire & Rescue. "The public has to be involved and not be okay with just 10% of our community surviving a cardiac event."​
According to Antonucci, it can take anywhere from 6 to 9 minutes for first responders to reach where a cardiac arrest has been reported. With each minute the heart isn't pumping oxygen to the brain, the damage increases and the chances of survival decrease. 
"In the medical community, we say time is tissue," Antonucci says. "We need the community to know hands only CPR so that they can help keep oxygen flowing to the brain and give that person a chance at survival."​
To achieve this goal, part of the day's festivities included hands-only CPR training for individuals of all ages and educational opportunities on early heart attack care from LLUMC-Murrieta. According to Antonucci, CPR can be learned by anyone nine years old and above. And anyone can help, whether they're calling 911, looking for the Automated External Defibrillators, or just being aware of the signs and symptom. What it comes down to, is being willing to learn and willing to act.  ​
Murrieta Fire & Rescue offers CPR certification courses each month with the Murrieta Parks and Recreation department. Registration information can be found online. For more information on Murrieta Fire & Rescue please visit the department website. ​
To learn more about the comprehensive cardiovascular programs,  interventional procedures, public education programs, and services offered at Loma Linda University Medical Center—Murrieta please visit their website or call 951-290-4000.