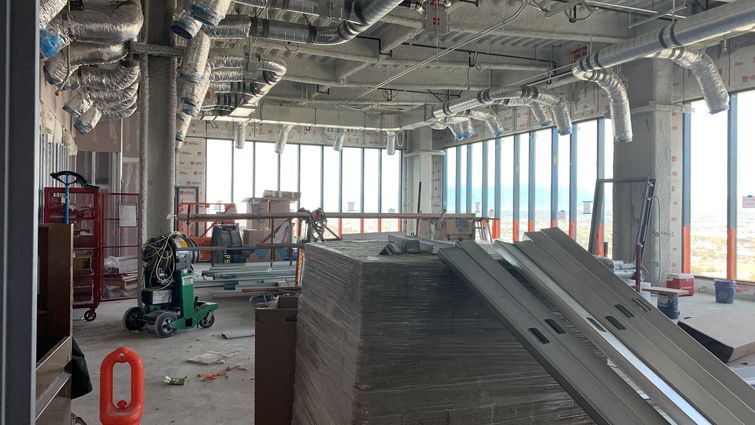 Capping a facility designed to provide world-class health care services, the sixteenth floor of the future hospital will not be fully built out on Day 1 of hospital operations. But once it is completed, the sixteenth floor will be home to a new conference center, the Executive Conference Room and an outdoor terrace.
The conference center will be the site of a range of educational conferences and special events, many of them showcasing Loma Linda University Health's education, research and clinical care. Visitors to the sixteenth floor will be greeted with stunning views of the main Loma Linda University Health campus and a number of Inland Empire communities. The 16-story new Medical Center tower is the tallest building in San Bernardino County.
Fun Facts:
•    Largest current hospital project in the state and will be the second largest hospital in California by square footage once opened (UCLA's Ronald Regan Medical Center is the largest)
•    The second-tallest base-isolated hospital in the world. Tan Tzu Medical Center in Taiwan is the tallest base-isolated hospital with 17 stories.
The most visible aspect of Vision 2020 – the Campaign for a Whole Tomorrow, the new adult hospital and Children's Hospital tower will incorporate leading advances in patient safety and comfort. The new buildings meet the future needs for adaptability and expansion, and will serve as an educational and research hub to shape healthcare in the United States and around the world.
You can follow the rise of the towers on a daily basis by checking the construction web cams.
We're sharing photographic updates of the hospital construction work on a periodic basis. Watch for special emphasis on some of the behind-the-scenes-views and untold stories at the Vision 2020 website.
This vignette is adapted from a blog by Dennis E. Park, which appears on the website www.docuvision2020.com.