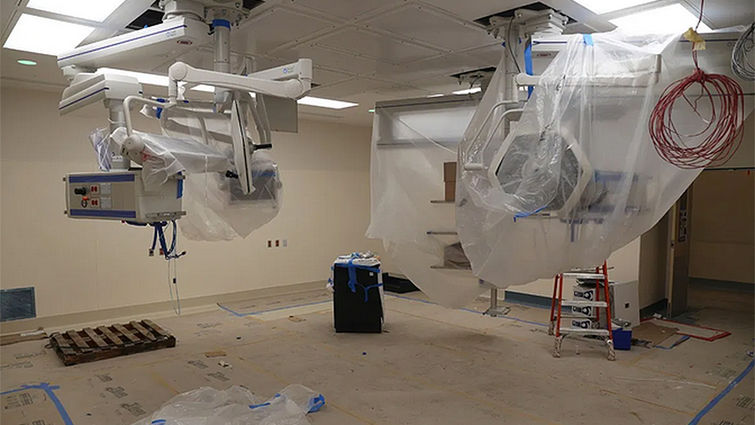 The future hospital's surgery center for adult patients will be located on Level 3, part of the new structure's podium section. The new surgical facilities will treat patients who come for anything from routine to unexpected lifesaving surgeries.
These new operating rooms in are larger than the ones in the existing hospital, averaging 747 square feet. Two hybrid operating rooms, an operating room with an X-ray built in, will be part of the surgical offerings for the first time.
The patient experience will be enhanced by having all operating rooms as well as pre- and post-op care units on the same floor, with a family waiting area as well. There will be a total of 39 Pre-Op bays and 24 PACU bays. Three endoscopic procedure rooms adjacent to the Pre-Op/PACU spaces.
Once a patient is transported to one of the PACU's or "Recovery Room," the family will know the operation is over. In the Recovery Room, patients will slowly wake up from anesthesia while their vital signs are closely monitored, given IV fluids, and pain management begins. From the PACU, patients are taken to a predetermined hospital room based on the level of care each individual patient will require.
The future adult hospital and Children's Hospital towers will incorporate leading advances in patient safety and comfort. Designed to continue Loma Linda University Health's 115-year legacy of outstanding care, the future hospitals will anchor the healthcare needs of a vast region of Southern California and serve as an educational and research hub to shape healthcare in the United States and around the world.
You can follow the rise of the towers on a daily basis by checking the construction webcams.
We're sharing photographic updates of the hospital construction work on a periodic basis. Watch for special emphasis on some of the behind-the-scenes views and untold stories at the Vision 2020 website.
This vignette is adapted from a blog by Dennis E. Park, which appears on the website www.docuvision2020.com.