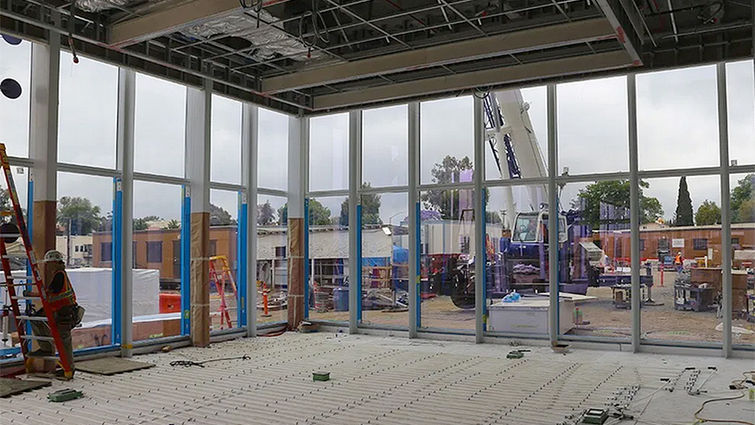 As patients, families and visitors approach the main entrance to the future hospitals, they will encounter an environment designed to calm nerves and inspire confidence. The new glass walled Galleria entrance area will offer access to the main lobbies of both the future adult hospital and the expanded Children's Hospital.
A key part of the Galleria will be a new chapel, which will stand as a visual reminder of Loma Linda University Health's faith-based focus. The 60-seat chapel and attached private prayer rooms will be a place where spiritual support will be found.
The area surrounding the Galleria will offer garden areas, natural light and outdoor seating areas for social interaction or quiet reflection. Sitting just to the east of the Galleria will be well-known "Come Unto Me" sculpture, which has sat by the Medical Center's main entrance since its dedication in January 2009.
In early June, the Galleria began to take on a more finished look as workers installed the glass outer walls of the structure.
The most visible aspect of Vision 2020 – the Campaign for a Whole Tomorrow, the new adult hospital and Children's Hospital towers will incorporate leading advances in patient safety and comfort. Designed to continue Loma Linda University Health's 115-year legacy of outstanding care, the new buildings meet the future needs for adaptability and expansion. The new hospitals will anchor the healthcare needs of a vast region of Southern California and serve as an educational and research hub to shape healthcare in the United States and around the world.
You can follow the rise of the towers on a daily basis by checking the construction webcams.
We're sharing photographic updates of the hospital construction work on a periodic basis. Watch for special emphasis on some of the behind-the-scenes-views and untold stories at the Vision 2020 website.
This vignette is adapted from a blog by Dennis E. Park, which appears on the website www.docuvision2020.com.