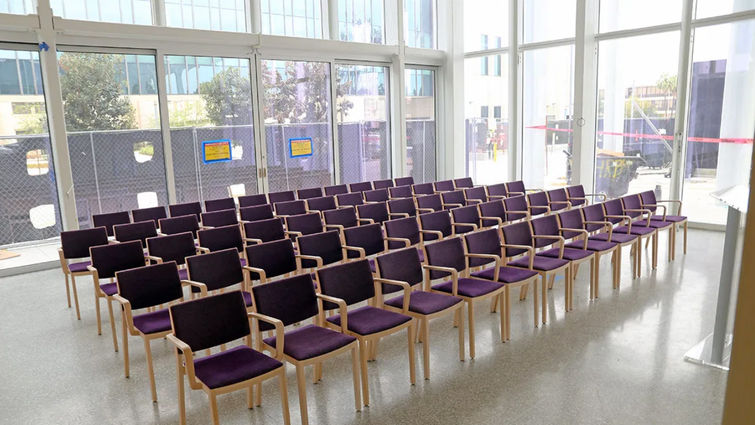 A key consideration in the design of the future Loma Linda University Medical Center and Children's Hospital tower focused on making our commitment to whole-person care apparent to patients and visitors as they arrive at the facility. The Dennis and Carol Troesh Medical Campus entrance will welcome visitors to a setting that inspires confidence and offers hope.
Loma Linda University Health's faith-based mission receives significant visual representation through the new chapel located at the west end of the Galleria. Carl Ricketts, MDiv, director of Medical Center chaplain services, said the chapel was placed in its prominent position to be a spot where people can come with their questions, fears, and joys.
"When you think of the chapel's location — right up at the front of the building — visitors receive the message that spirituality is a major component of who we are," Ricketts said. "The chapel's location makes a statement about Loma Linda University Health's commitment to healing the whole person."
Beyond the architectural statement, the chapel gives a safe place for family members, employees, and patients to talk with God.
"People will be safe to pour out their hearts to the God who cares, reconnecting and renewing their relationship with Him," Ricketts said.
New technology will allow chaplains to broadcast live worship and devotional services directly into patient rooms. Event broadcasts will eventually include concerts, lesson studies, and special events such as National Day of Prayer services and Nurses' Week events.
"We want the chapel to be a hub of spirituality," Ricketts said. "For instance, we hope that for future Nurses Week and Hospital Week celebrations that we can host a blessing of hands service for our nurses and frontline team members."
The chapel will also offer access to private rooms for medical center chaplains to provide spiritual support and prayer, Ricketts said.
"Prayer rooms adjacent to the chapel will give small groups of one, two, or three people an opportunity to pray in solitude, where they can connect with God. Anyone who might need a moment to come aside to reach out to God is welcome to utilize these prayer rooms," Ricketts said.
Substantial funding for the chapel came from the Loma Linda Councilors, a group of Loma Linda University Health supporters founded more than 50 years ago as an advisory group to administration. The group has been a valuable source of perspective and ideas as Loma Linda University Health strives to maintain its focus on outstanding faith-based care as the healthcare field grows in complexity. Since its founding, the group has provided more than $80 million in financial support for a number of projects on campus, including the new chapel.