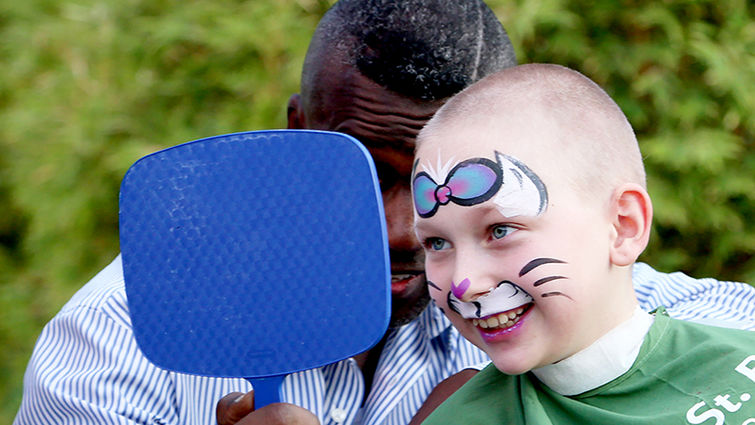 Thanks to April Wall and numerous other dedicated volunteers and supporters, the St. Baldrick's Foundation's Brave the Shave event at Loma Linda University (LLU) brought in more than $22,000 for pediatric cancer research.
The hair-razing experience—in which individuals or teams volunteered to have their heads shorn in exchange for pledges of support—took place on the north lawn of the Centennial Complex from 4:30 to 7:30 p.m. on Thursday, September 29.
Nine-year-old Miss Wall was unabashedly enthusiastic. After reading the story of a young girl battling cancer, April decided she wanted to help stop the deadly disease. Fortunately, she knew exactly what to do since her father, Nathan Wall, PhD, associate professor and graduate program director at LLU School of Medicine, had participated in a Brave the Shave event a few years earlier.
Although a bit self-conscious about her appearance due to having to wear leg braces necessitated by cerebral palsy, April wholeheartedly embraced the idea of altering her looks to help kids with cancer.
When asked why people should get involved, April confidently declared that, "People should give money to St. Baldrick's because they are helping us raise awareness and find a cure for cancer."
With assistance from her parents, April assembled Team April Makes a Difference and went to work recruiting donors and sponsors with a will. At the end of the event, it was announced that Team April had taken top honors by raising a total of $6,330 for pediatric cancer research.
But as this article went to press, Team April's updated earnings of $7,825 are running behind the $7,876 raised by Team Bald4HemOnc led by Liliam Acosta, a nurse from Unit 4800 at LLU Children's Hospital. With total earnings of $3,920, third place belongs to Team BaldieLocks, co-anchored by Cindy Pelton and Candy Turner-Santacroce from the LLU Cancer Center. Fourth place is the province of Team BALD Basic Science with $2,315 so far. Nicole Mavingire, a second-year PhD student at LLU School of Medicine, led that team and recruited fellow students for support.
Coats, however, advises not to consider Team April down for the count. "They're only $51 behind the front runners," she notes, "and are still actively fundraising. Never bet against April!"
During the event, a number of cancer researchers, physicians, and nurses took the stage to share their heartfelt concerns about the need for additional research into the causes and treatments of childhood cancer. Mark Reeves, MD, director of the LLU Cancer Center, and Penny Duerksen-Hughes, PhD, associate dean of LLU School of Medicine, thanked St. Baldrick's Foundation for its efforts in keeping research alive in these cost-conscious times. Mary Blake, a first-year student at LLU School of Medicine, shared her story of surviving acute lymphoblastic leukemia as a child, and added her commendation to St. Baldrick's Foundation for the important work it is doing. Cindy Pelton, who has worked as a nurse with pediatric cancer patients since 1985 and currently serves as clinical research coordinator for the LLU Cancer Center, shared her reasons for going hairless.
In citing research as the single-biggest reason why kids with cancer today are surviving longer and enjoying a better quality of life than at the beginning of her career, Pelton underscores the need for ongoing investigations into the causes of pediatric cancer.
"Research is critical for finding the cure, making treatments with little or no late effects, and even stopping cancer altogether," she observes. "It was easy to say yes to Braving the Shave thru St Baldrick's Foundation. I work for Loma Linda University Health because I believe in its mission. I believe in making children whole. I believe that research can do this. Losing my hair by choice is better than a child losing hair by cancer. These kids give us their trust and love. This is about giving our kids a future."
Some of the money raised at Brave the Shave events is already helping researchers on the campus of Loma Linda University Health. Kimberly Payne, PhD, who serves as associate professor and director of translational research at LLU School of Medicine, says organizations like St. Baldrick's have become increasingly crucial to efforts to win the battle against childhood cancer as federal funds have been reduced. Speaking from personal experience, Payne notes that at a time when NIH funding sank due to economic concerns, she heard about St. Baldrick's Foundation's support for pediatric cancer research. Encouraged, applied for a research grant to develop therapies against a deadly form of leukemia that strikes Hispanic children of Native American descent five times more often than other kids.
"The $100,000 award I received from St. Baldrick's Foundation during 2012 and 2013 kept pediatric cancer research going in my laboratory during this crucial period," Payne reports, "providing a foundation for me to successfully compete for an NIH R01 grant in 2016."
Payne goes on to note that the vision of St. Baldrick's founders "is paying off in the fight against pediatric cancer. St. Baldrick's is not only there on the front line helping children with cancer, but also building the pediatric cancer research network to produce the sustained effort needed to cure this disease. St. Baldrick's has been there at critical times to make a difference for three generations of pediatric cancer researchers, and all of those are connected to the head-shaving event here in Loma Linda."
According to Jacqueline "Jaq" Coats, the senior research assistant at Loma Linda University School of Medicine who served as coordinator for the event, St. Baldrick's Foundation is the second-largest funder of childhood cancer research in the world, second only to the federally-funded National Institutes of Health.
"Since St. Baldrick's was founded in 1999," Coats reports, "they have raised more than $200 million for pediatric cancer research. Of that money, nearly 80 percent goes into actual cancer research. That's really phenomenal!"
Kathleen Ruddy, executive director of St. Baldrick's Foundation, was delighted with the outcome of the Loma Linda event.
"Many organizations speak of partnership," Ruddy observed, "but at Loma Linda, it's clearly practiced and celebrated. We're proud to support outstanding life-saving childhood cancer research at Loma Linda, because Loma Linda understands that every hospital that treats children with cancer is part of an ecosystem, where expertise and scientific rigor and discovery in one center, benefit children treated at another.  In such a network, every participant depends upon the others to ensure the ultimate survival and well-being of each child. 
"St. Baldrick's volunteers raise funds for research," she concludes, "and Loma Linda's leadership team is so passionate about saving the lives of children with cancer that they not only do the research and treat patients, they also participate in raising funds, even if it means shaving their heads to secure financial support for the cause. This is truly 'living the mission' and we couldn't be more honored or grateful for such a partner."