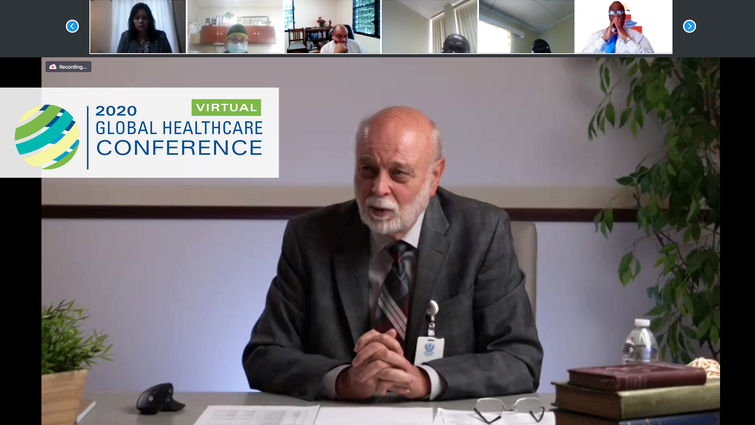 For the first time, Loma Linda University Health held its annual Global Healthcare Conference in a virtual format to continue its ongoing international initiative to support the development of the church's healthcare and educational institutions around the world.
Nearly 1200 Seventh-day Adventist healthcare and church leaders from 81 countries registered for the 10th Global Healthcare Conference held online, November 2 to 5.
The annual conference provides an opportunity for professional development and networking among international Seventh-day Adventist healthcare staff and administration at hospitals and educational institutions. 
This year's program included nine live sessions and a library of 170 on-demand videos accessible in four languages: English, French, Russian, and Spanish. Topics included clinical laboratory, COVID-19, finance, human resources, medicine, nursing, pharmacy, and quality improvement.
"The need for healthcare education among our global partners has only increased during the pandemic," Richard H. Hart, MD, DrPH, Loma Linda University Health president, said in his opening keynote address. "Our online Global Healthcare Conference has allowed for more participation in a new way, engaging hospital staff and others unable to attend in-person because of these unprecedented times."
The conference also provided a venue for networking and collaboration between institutional leaders and encouraged conversations focusing on practical challenges and solutions they face.
Participants had the opportunity to submit and view quality improvement projects and institutional highlights from other Seventh-day Adventist hospitals, clinics and educational institutions worldwide.
The Seventh-day Adventist Church operates nearly 200 hospitals and 450 clinics around the world.
"Because of the positive response to the conference, the Global Health Institute will be developing online global education materials to further support and grow these international institutions," Hart said.
The first Global Healthcare Conference took place in 2010 in Honduras and focused primarily on the specific needs of healthcare leaders in Latin America. The conference has been held annually since 2010. During even-numbered years, the conference takes place in Loma Linda. Regional conferences take place during odd-numbered years, with previous events being held in the Dominican Republic, Cote d'Ivoire, Zambia and India.
Organized by the Global Health Institute of Loma Linda University Health, it included the following collaborating organizations: Adventist Health International, Consortium of Adventist Medical Education Leaders, General Conference of Seventh-day Adventists, and its Departments of Education and Health Ministries.
The 2020 Global Healthcare Conference plenary and breakout sessions are available on-demand by visiting https://ghi.llu.edu/ghclive.