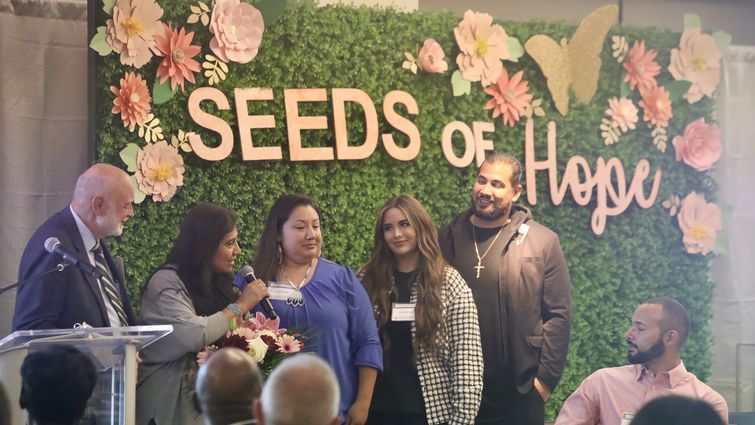 Donors and supporters gathered yesterday at the 15th annual Seeds of Hope fundraiser, an event to provide scholarships for Loma Linda University Behavioral Health patients in need. This year's focus spotlighted the services and programs supporting youth patients and their families on their journey to recovery. Guests were treated to a patient testimony, saw the Behavioral Health Champion Award presentation, and welcomed a dedicated health professional guest speaker.
Over the past year, Loma Linda Behavioral Health's skilled care teams have provided more than 22,100 days of inpatient treatment and over 57,300 visits to the Partial Hospitalization and Outpatient programs. In 15 years, the Seeds of Hope event has provided over 300 scholarships to patients and their families who had no or limited access to insurance.
"Our Loma Linda University Behavioral Health team works to plant hope in our patients and families. Your presence here tonight shows your belief in our mission and can also be a seed of hope to someone in need," Edward Field, MBA, vice president and administrator for the BMC, said.
Richard Hart, MD, DrPH, president of Loma Linda University Health, presented the Behavioral Health Champion Award to the Mathews and Bolden family —a family dedicated to supporting health initiatives in the region. The award recognizes and celebrates the dedication of supporters and donors of the Loma Linda University Behavioral Health mission.
"The Mathews and Bolden families have been wonderful partners with Loma Linda University Health for years and have a particular passion for children and behavioral health," Hart said.
The Mathews Bolden Family Therapeutic Courtyard is the family's latest gift, planned for opening early next year. The new space will provide a safe outdoor play and therapeutic area for the Behavioral Medicine Center residents.
Hart welcomed guest speaker Annette Ermshar, PhD, MSCP, ABPP, to the stage. Ermshar is a neuropsychologist and Loma Linda Univeristy Alumna who supports LLUBH's mission through her own passion of helping others get back on their feet and achieve their personal best.
The audience also viewed 13-year-old Grace Turner's story about triumphing separation anxiety. She and her mother, Rebecca, were welcomed on stage by Glenn Scott, LCSW, director of youth PHP and IOP services, to participate in a Q&A panel featuring Grace's therapist, Kaitlyn McLaughlin, LMFT, LPCC, and child-adolescent psychiatrist, Jennifer Minami, MD.
"I feel like myself again. I have amazing family and friends who have supported me through my separation anxiety and treatment," Grace said with tears in her eyes. The audience followed with a congratulatory standing ovation.
For more information about Seeds of Hope and opportunities to support patients like Grace, visit lluh.org/SOH.