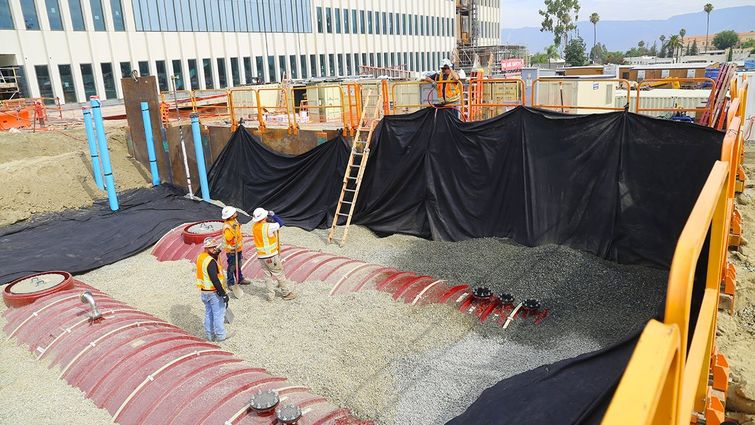 Loma Linda University Health's new adult hospital and Children's Hospital tower feature an array of seismic safety design solutions—the base isolator system upon which the building rests; the significant amount of steel in the building's framing; the flexible pipe connections that will allow power, water and other needed resources to be delivered to the hospital during and after an earthquake.
Two additional safety systems have been installed, both located underground adjacent to the new structure.
A set of four 25,000 gallon water tanks have been installed along the southeast area of the building. These tanks will become the source of water needed to keep operations running in case of an emergency that interrupts regular water supplies. The hospital plumbing system is designed to allow engineers to redirect water to areas of most need, and away from areas where the system might have sustained some damage.
A second water storage system, a 50,000 gallon tank located along the southwest area of the facility, will be used to fight any fires that might occur.
Each of the building's safety systems, whether complicated like the 105 building isolators, or simpler like the array of buried water tanks, has been included to allow patient care to be continued in the face of any type of emergency.
The new Medical Center will house 320 beds for adult patients, while the new Children's tower will give Children's Hospital a total of 373 licensed beds. The new facilities will also be a place where 4,700 Loma Linda University students and 700 residents will progress in their education.
The massive construction project is a part of Loma Linda University Health's Vision 2020 – The Campaign for a Whole Tomorrow. New buildings for both hospitals will meet and exceed California's upcoming seismic requirements for hospitals.
We're sharing photographic updates of the hospital construction work on a periodic basis. Watch for special emphasis on some of the behind-the-scenes-views and untold stories at the Vision 2020 website.
This vignette is adapted from a blog by Dennis E. Park, which appears on the website www.docuvision2020.com.