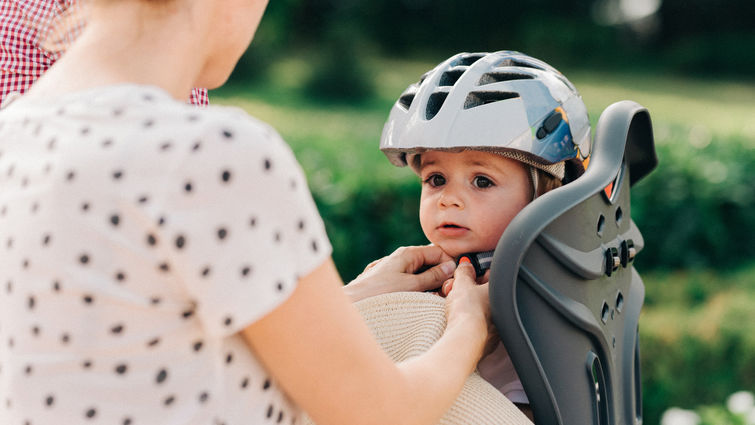 Inland Empire families can learn health and safety tips to prevent life-threatening injuries through free educational seminars offered at Loma Linda University Health.
Miguel Lopez-Gonzalez, MD, FACS, a neurosurgeon at Loma Linda University Health, introduced ThinkFirst in an effort to educate young students — kindergarten through high school — on how to safely protect themselves against trauma injuries. Many injuries to the head, spine or body are preventable, according to Lopez-Gonzalez. The key is to be aware of how and when these injuries occur. 
"Our goal is for children and their parents to not be afraid of an injury, but rather be aware," says Lopez-Gonzalez. 
ThinkFirst is a National Injury Prevention Foundation effort rooted in educating students, educators and parents on the best safety precautions. Topics include learning safety measures to prevent serious injuries, such as wearing a seat belt, driving free from distractions or wearing a helmet while riding a bike. 
Tanya Minasian,DO, FACOS, a pediatric neurosurgeon at Loma Linda University Health, coordinated the first ThinkFirst Baby seminar for expectant parents and caregivers. The seminar offered families a unique opportunity to learn about brain and spine health in infants and how to properly care for their tiny bodies. The seminar demonstrates many aspects of infant safety, including how to properly secure a car seat, safe sleeping, home safety and how to calm a crying infant.  
In addition, parents and caregivers were introduced to Shaken Baby Syndrome, a type of abusive head trauma that results from a parent or individual violently shaking a baby. As many as 3,000 babies suffer from Shaken Baby Syndrome in the U.S. each year, according to ThinkFirst. Minasian says 25% of babies die from their injuries and the rest can suffer permanent brain damage. 
"We want to provide a safe area for parents to express any doubts, questions or concerns," Minasian says. "Our goal is to provide information and ways to alleviate their stress, reduce potential frustration and assure them that Loma Linda University Health is here for them." 
Loma Linda University Health is the only chapter in Southern California to offer ThinkFirst Baby, and Minasian is the only physician in the U.S. credentialed to teach ThinkFirst Baby seminars. Sessions are held monthly at Loma Linda University Health for ThinkFirst Baby, while ThinkFirst is offered throughout the community at participating schools. Both physicians value this platform as an innovative way to reach the community with resources and knowledge to prevent future traumas in both children and adults. 
For more information on upcoming ThinkFirst Baby seminars, call Janine Davis at 909-651-4721. 
Learn more about Loma Linda University neurosurgery offerings at lluh.org/neurosurgery or by calling 909-558-6388.