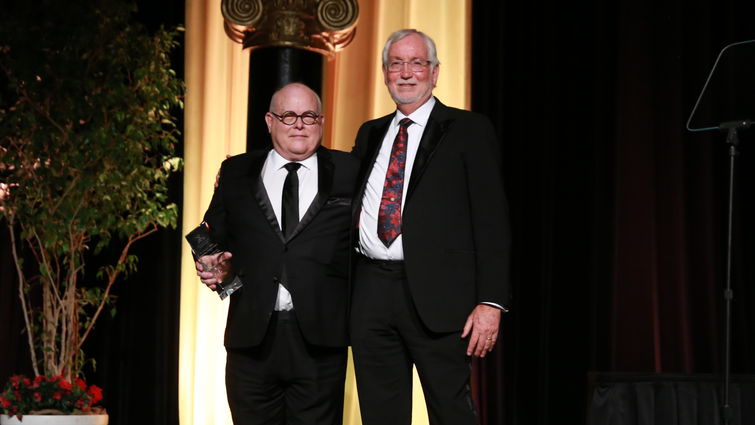 Douglas Deming, MD, was honored with the Dr. Leonard L. Bailey Outstanding Clinician Award for his passionate commitment to excellence in patient care, research, teaching, and service at the 29th annual Children's Hospital Foundation gala earlier this month.  
Deming is one of the pillars of neonatal and perinatal medicine at Loma Linda University Children's Hospital. Over the course of his 35 plus year career at the institution, Deming has served in many roles, including neonatology fellowship program director, director of the neonatal-pediatric ECMO program, medical director of neonatal respiratory care, and chief of the division of neonatology. In one of his most significant roles, he serves to bring tiny babies safely into the world.
Deming has been actively involved in neonatal research. His findings have been published in more than 50 peer-reviewed publications. An excellent writer and editor, he has co-edited a textbook on chronic lung disease.
Deming is an outstanding educator and well-respected mentor for medical students, residents, fellows, and faculty. With his wealth of medical knowledge and his desire to share that with his learners, Deming has a unique ability to combine the roles of challenging and supporting each student as they grow and mature in their training. Additionally, he is a highly sought-after lecturer for his command and presentation of medical topics.
Through his many missionary trips to China, Deming has consistently shown his deep care for communities in need of improving neonatal management. He is revered in the Children's Hospital at Zhejiang University as a mentor, educator, and friend, where he has taught techniques, shared protocols, reviewed cases, and given equipment, resources, and innumerable lectures to those neonatology teams.
Deming's commitment to his tiny patients, students, and staff at Children's Hospital reflects the highest level of rigor, quality, and trustworthiness.
The award he received is named after the late Leonard Bailey, a world-renowned pediatric heart surgeon whose work gave hope to children everywhere. His research and innovations in infant cardiology have helped save thousands of lives around the world. For 42 years, Bailey guided patients and their families through some of their most trying times.