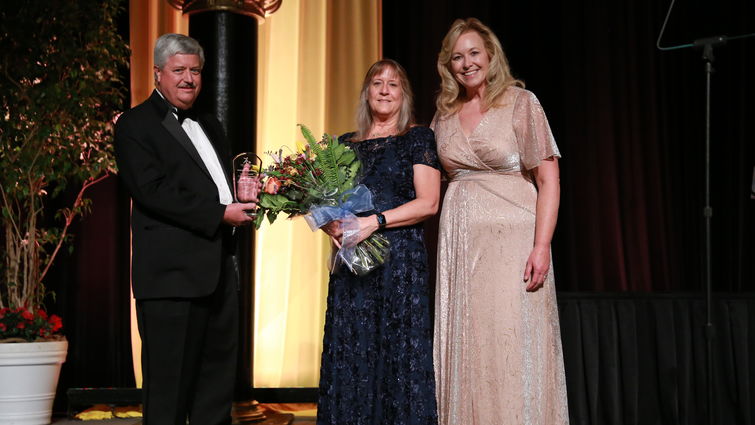 Don Moores, MD, and Penny Moores were honored at the 29th annual Children's Hospital Foundation Gala earlier this month with the Hometown Hero Award for their unceasing effort to ensure every child receives world-class treatment physically, mentally, and spiritually.
The Moores embody Loma Linda University Health's mission — to make man whole — through their lifelong friendship with Loma Linda University Children's Hospital. Penny serves as the treasurer for the Big Hearts for Little Hearts Loma Linda Guild, and Dr. Moores serves as division chief of pediatric surgery for Children's Hospital.
In addition to the lifesaving care that he and his team provide to children in the community, Dr. Moores can be found by Penny's side during the fund- and friend-raising efforts she promotes. Together, they provide support and compassion for patients both inside and outside the operating room.
Penny's passion for young people is exemplified in her countless volunteer hours and behind-the-scenes work that have supported the purchase of crucial lifesaving medical equipment for Children's Hospital. Her tireless efforts, combined with her husband's, have helped the Loma Linda Guild raise more than $3.5 million since their inception.
The Guilds have provided arts and crafts, reading books, teddy bears, patient rocking chairs, fetal heart monitors, giraffe warmers, toys for children of all ages, and educational tools for the classroom to ensure each child receives the best medical treatment at Children's Hospital.
In addition, Penny provides instrumental support for the annual Children's Hospital Foundation Gala. Penny's aptitude for putting others first has given her a reputation as "the most passionate and tireless lady."
Penny and Dr. Moores have gifted their time and talents to many other organizations in the Inland Empire, including Bryn Mawr Elementary, The Unforgettables Foundation, California State University San Bernardino, Habitat for Humanity, Extreme Makeover: Home Edition, Redlands Adventist Academy, PossAbilities Bike Race, and Redlands Seventh-day Adventist Church. The couple also dedicates time to the international mission field, where Dr. Moores assists with surgery and medical technique.