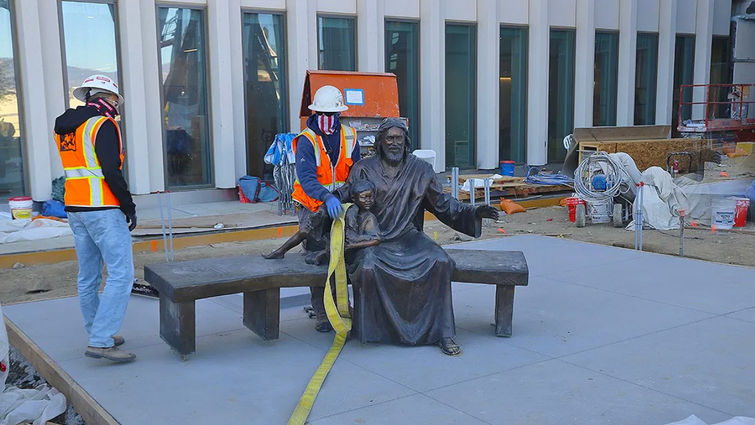 The relocating process for the "Come Unto Me" sculpture is underway, with the entire 10-piece grouping being placed in its new location just east of the new hospital's Galleria entrance facility. The work had been located in a small garden courtyard located northeast of the previous main entrance area to the Medical Center.
Installed on campus in January 2009, the work shows a seated Christ inviting children and adults to come forward in welcome. Physicians, nurses, and patients of all ages are depicted. Victor Issa, a sculptor living in Loveland, Colorado, created the grouping for Loma Linda University Health.
The new site for the "Come Unto Me" work allows visitors to contemplate their personal understanding of the sculptures' meaning. The work will be able to be viewed from a variety of perspectives outside, as well as from inside the Galleria, and from the corridor near the cafeteria and dining room.
The work's inspiration comes from Christ's invitation recorded in Matthew 11:28-29 — "Come Unto Me, all you who are weary and burdened, and I will give you rest. Take my yoke upon you and learn from me, for I am gentle and humble in heart, and you will find rest for your souls." Artist Victor Issa reports he found transformation in his own life as he worked to convey the joy of this message of hope through the work of art.
"I worked to convey the joy of this message of hope through the work of art," Issa said.
"Come Unto Me" is one of three Victor Issa works located on the Loma Linda University Health campus. "Be His Light" is a new work installed at the entrance to the School of Nursing. "This is the Very Place," sits under the trees atop the Nichol Hall hill and depicts a wagon sculpture commemorating the moment on June 12, 1905, when William White, Ellen G. White and John Burden decided this would be the future site of the Loma Linda Hospital.
This vignette is adapted from a blog by Dennis E. Park, which appears on the website www.docuvision2020.com.