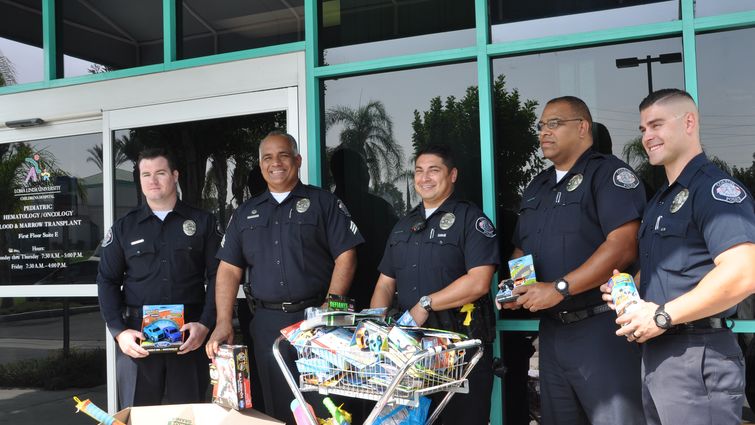 On Friday, August 26, five officers from the Colton Police Department arrived at the Hematology/Oncology Outpatient Clinic of Loma Linda Children's Hospital.
Led by Sgt. Henry Dominguez, police officers R. Cantrell, J. Hanna, R. Randolph, and J. Hotchner unloaded the back of a police SUV filled with toys and coloring books collected by the Colton office of D.A.R.E. (Drug Abuse Resistance Education), and made a lot of sick children very, very happy.
The officers strolled through the hallways of the outpatient clinic, handing out toys and sharing smiles, stories and laughter with kids who were feeling a bit under the weather as they received their chemotherapy treatments.
The officers even sang "Happy Birthday" to one of the patients celebrating his seventh birthday.
There was a large assortment of Dora the Explorer and Finding Nemo coloring books, tons of action figures, trucks, and plastic baseball bats and balls. Squeals of delight were heard throughout the floor, and looks of wonder and HUGE smiles were seen around every corner.
Crystal Wigglesworth, a Certified Child Life Specialist at the clinic said, "Seeing these children so happy is beyond words. They struggle every day with their illnesses, and these kinds of days, when the community steps in to bring them a little sunshine, are appreciated so much."