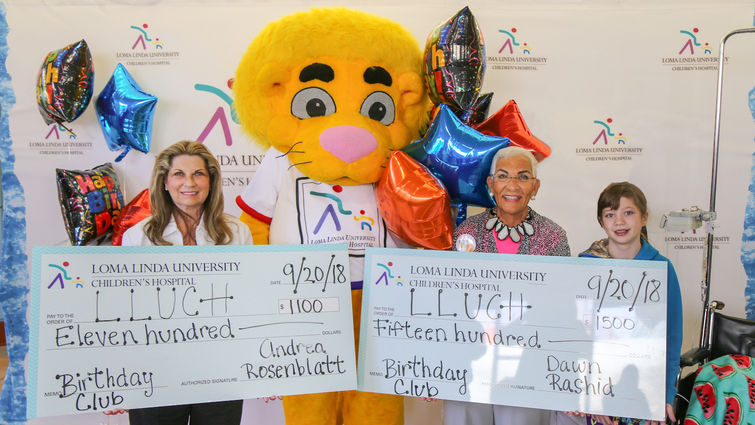 Two Coachella Valley residents recently banded together to raise funds for Loma Linda University Children's Hospital (LLUCH). Andrea Rosenblatt and Dawn Rashid, both of Palm Desert, and board members of the Big Hearts for Little Hearts Desert Guild, collectively raised over $2,600. They presented the funds to the hospital on Thursday, September 20.
Jill Payne, assistant vice president of philanthropy, acknowledged the generosity of the ladies' donations and welcomed them into the LLUCH Birthday Club.
"Donating your birthday to Loma Linda University Children's Hospital brings valuable dollars to important work," Payne said. "We hope it has made your birthday feel even more special."
Both Rashid and Rosenblatt have volunteered with the Desert Guild for several years and have a passion for serving their community and LLUCH. The Desert Guild is committed to supporting the children hospitalized at LLUCH by developing programs and projects that address the critical needs of these children and their families.
The LLUCH Birthday Club was established to honor and celebrate those extraordinary individuals who want to give back to children in need. Through personal and social networking, Rashid was able to raise over $1,500 and Rosenblatt raised over $1,100.
LLUCH patient Codi Pelton, 13, of Desert Hot Springs, was all smiles as she accepted the checks on behalf of the hospital.
To learn how you van be a part of the club, visit lluch.org/birthdayclub.