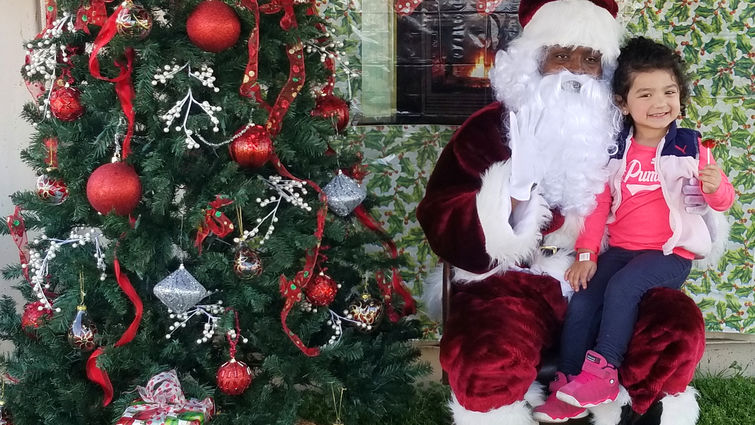 Hundreds of local children and their families were blessed by an afternoon of Christmas celebration and gift-giving during the 20th annual Christmas Fiesta on December 8.
Nearly 140 Loma Linda University student volunteers were host to 235 underserved children, ages 3 to 12, at the SACHS Norton Clinic in San Bernardino.
The annual event is sponsored by the department of Community-Academic Partners in Service (CAPS) — part of Loma Linda University Health's Institute for Community Partnerships — in partnership with Loma Linda University Student Association.
Invited guests enjoyed a Mexican soup buffet, Christmas crafts and games, and had the opportunity meet and take a photo with Santa Claus. In addition, each child received an age-appropriate gift, donated by Loma Linda University students.
"The Christmas Fiesta continues to be a highlight of the holiday season for both the children and families we serve and our students," said Oscar S. Bustillos, CAPS program coordinator.
Bustillos said most of the families in attendance participate in CAPS student-led community programs that take place throughout the year, such as Kids ROCK (Reaching Out in Christ to Kids), academic tutoring, music tutoring, the Adult Resource Center and the Goal 4 Health soccer initiative.
Celebrating Christmas with the community has been a tradition of Loma Linda University for almost 50 years. 
The annual community Christmas party was originally created by the SAC Health System in the early 1970s. In 1991, it became known as "Adopt-A-Kid Christmas Party," and was sponsored by Students for International Mission Service (SIMS). In 1998, the CAPS office re-launched it as a student-driven event, renaming it "Christmas Fiesta."
One Loma Linda University School of Nursing student volunteer said it brought her joy knowing she attends an academic institution that is dedicated to sharing the gift of Jesus Christ with the community.
"We asked our campus to donate a wrapped present for the little ones," said Pablo Ariza, director of CAPS. "The response was tremendous, and the generosity shown by our Loma Linda University community helped ensure every child received a gift."
Ariza said CAPS will donate the remaining presents to local foster children on behalf of Loma Linda University Health.