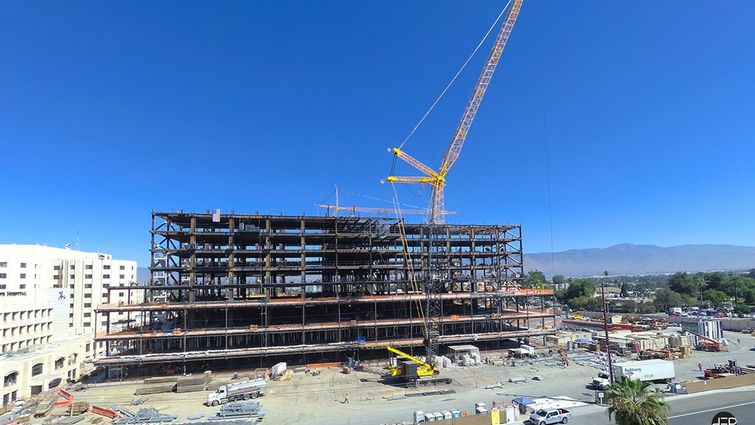 The steel frame for the new Loma Linda University Children's Hospital tower was completed September 12, when workers installed the final piece of structural steel that finished the top floor. There will be an approximate seven-foot windscreen installed around the perimeter, intended to protect equipment on the roof.
The tower's completion comes just over six weeks from when the first beams for the tower were put in place on July 30. Two of the three main elements of the new Medical Center project have been completed — the base podium and the Children's tower.
Construction continues on the 16-story Adult hospital tower, with completion anticipated in December. Workers have completed 10 floors through September. The Adult tower will be the tallest building in San Bernardino County when completed. The structure is easily seen in a number of areas of Loma Linda, as seen in photos below.
Construction on new facilities for both hospitals began approximately two years ago. There will be 373 beds available for pediatric patients when the facility is completed. The construction is a part of Loma Linda University Health's Vision 2020 – The Campaign for a Whole Tomorrow.
We're sharing photographic updates of the hospital construction work on a periodic basis. Watch for special emphasis on some of the behind-the-scenes-views and untold stories at the Vision 2020 website.
This vignette is adapted from a blog by Dennis E. Park, which appears on the website www.docuvision2020.com.