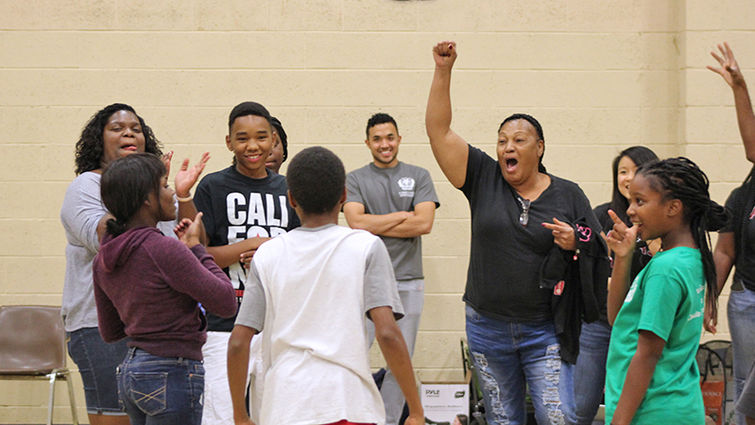 Loma Linda University students recently held a family celebration in a neighborhood they have been researching — the Desert Highland Gateway Community in Palm Springs — to bond with and rally its residents.
"We wanted to create a great family night filled with fun and laughs, during which we would also be able to connect with members of the neighborhood on a more personal level and further build our relationships with them," says Bethsaida Charlot, one of nine students from LLU School of Public Health who is working on the research project with this community. In a spirit of unity and service, students from other schools and campus organizations volunteered at the event, as well.
Between 75 and 100 community members attended the event, held Nov. 17 at the James O. Jessie Desert Highland Unity Center, where they were served a Mexican-food feast and treated to a variety of games.
"Both adults and youth enjoyed the family fun night," says Jarvis Crawford, manager of the unity center. "The activity was one that will be remembered all year, and many of the youth and parents have asked when will it happen again!"
Former Palm Springs mayor Ron Oden says, "I am so thankful to see a growing community uniting under the umbrella of health principles. It was wonderful to witness the laughter of children and the energy of youth engaged in physical activities with parental involvement, all supervised by students from Loma Linda University."
The event provided a bonding opportunity for community members and the student researchers. Their research project is titled "Breaking the Cycle: Mobilizing Marginalized Youth in Palm Springs," and its intent is to change the pattern of high incarceration in the Desert Highland Gateway Community.
Breaking the cycle of youth incarceration
In this community, 40 percent of adults are currently incarcerated or have been incarcerated.
The School of Public Health students have assessed youth in the community through focus groups and a survey. The results reveal challenging circumstances and dynamics the youth live with — such as antagonism with police, issues with authority, high prevalence of gangs, high conflict levels, negative childhood experiences, frequent detention, stress and exposure to drugs and alcohol — but also high levels of hope and family support.
The latter are assets that can be harnessed to lower delinquency and criminality among youth in this community.
In progress is an intervention the Loma Linda University students are implementing with community families of youths to strengthen ties and relationships with the public school system and community organizations in Palm Springs that can offer support.
"Instead of reinventing the wheel, the students want to help existing programs in Palm Springs be stronger and made available to this community and its youth," says Nipher Malika, MPH, research associate at the Institute for Community Partnerships at Loma Linda University Health.
She adds, "The resources for breaking negative cycles and empowering higher quality of life are there, we just want to make sure they are known and utilized by the community."
The Institute for Community Partnerships has engaged regularly with this neighborhood for the past three years via research and community empowerment activities. The aim is to help the community overcome challenges, including the high incarceration rate, along with low high-school graduation rates and high rates of chronic disease.