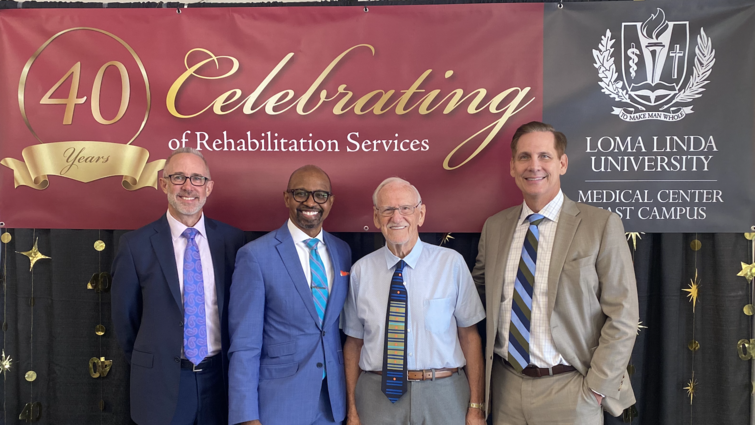 Leadership, faculty, and students gathered to celebrate Loma Linda University Health's Rehabilitation 40 years of service at East Campus last week. Its growth through the decades has been indispensable to transforming lives through education, healthcare, and research.
"Over the past four decades, our rehab center has been a beacon of hope and healing, guiding countless individuals towards a brighter, healthier future," says Darryl VandenBosch, CPA, senior vice president of Loma Linda University Medical Center East Campus and Surgical Hospital. "The journey to recovery is a testament to the strength of the human spirit, and we are proud to have been a part of so many inspiring stories of transformation. As we celebrate 40 years of service, we remain committed to our mission of restoring lives, one step at a time."
Most rehab services are offered at LLUMC East Campus, providing one-stop access to the most comprehensive outpatient and inpatient rehabilitation services in the region, including physical therapy, occupational therapy, speech pathology, robotic rehabilitation, orthopaedic and sports therapy, pediatric rehabilitation, and orthotics and prosthetics.
Loma Linda University Health's multidisciplinary approach offers collaborative care to bring patients the best practices. And as the only rehabilitation program with robotic therapy in the region, the campus offers the latest innovative technology to help patients recover.
More information about rehab services at Loma Linda University Health is available at lluh.org/rehabilitation-services.