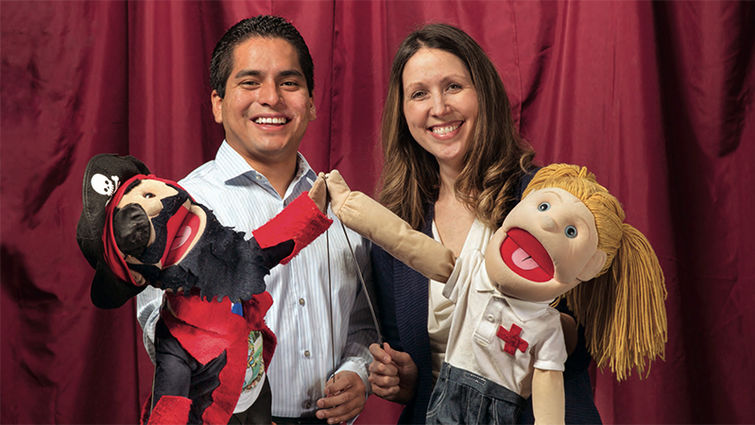 The puppet show is almost over, and the preschoolers are focused on Captain Jack's antics. Captain Jack commands the stage. "Aargh, little fish, what does the red in the  air quality index mean?"
"Red means it's a bad day," shouts a child. "Everyone should stay inside," adds another.
After the performance, the kids line up with paper and pencil determined to get autographs from the puppets. "Can we see the play again?" says a little girl. "I want to be screened by the doctor."
March 21 is National Day of Puppetry, and researchers in the Loma Linda University School of Public Health are using puppets to help fight asthma and to teach lessons about the importance of exercise, diet and other health topics.
The puppetry program took off in 2012 when researchers in the school wrote and produced a new version of the educational theatrical play, Captain Jack Snuffles and the Coughing Crew, to teach children about air quality and promoting a healthy environment.
Local church members created props and costumes using pieces of felt and a few stitches to gloriously capture the characters' personalities as creatively as a top Broadway costume designer.
"It all came together to engage the audiences — "The kids loved the characters, and immediately began interacting with them," says Marco Pasco-Rubio, an epidemiology student in the school who is one of the university's leading puppetmasters.
"Puppetry is a useful tool to show how art and science can be combined to bring a whole health message to a diverse audience," Pasco-Rubio says. "As the organization Puppeteers of America states, 'puppetry is a grand and glorious tradition that includes all, transcends languages, and unites the world in a way that is truly unique and powerful.'"
Pediatric residents from Loma Linda University Health participate in the shows, providing information about controlling asthma. They also talk about medication and asthma triggers.
Rhonda Spencer-Hwang, DrPH, associate professor, School of Public Health, came up with the idea to combine puppetry with quantitative research at the school. She is principal investigator for the Loma Linda University Asthma Program. The program, for children 0 to 5, is funded by a First Five grant; the original $1.6 million, four-year grant was extended two years, through 2018.
"When we created the puppet show we didn't realize how successful it could be in encouraging children to participate in our asthma research study," Spencer-Hwang said.
In the study, young children were asked to blow into a device to measure how hard and how much air their lungs can breathe out. Typically in an underserved area, about 20 percent of the participants comply but after experiencing the play, almost 75 percent completed the test.
The school's asthma education program has grown each year, consistently reaching 10,000 families. The program has developed a list of more than 180 child care provider sites requesting that the educational theater group return to perform plays about additional health topics.
To make this possible, residents, staff members and students train 300 teachers during the annual meeting of the Riverside School District.
The teachers are enthusiastic. "The kids get to learn about asthma in a fun way as they interact with the characters," a teacher said. "Some believe they are real pirates!"
Another said, "puppetry is a different way of teaching about asthma. The interaction and materials used engaged the kids more than if it was a normal class."
To assist with reaching hard to reach communities, Spencer-Hwang, is also working with El Sol, a local community-based organization.
"We train their community workers in the use of puppetry and stage theatre to deliver our whole health message," she says. "We have produced hundreds of puppet shows at preschools, Head Start programs, and day care facilities throughout Riverside County.  The response has been overwhelming."
To combine Loma Linda University Health's (LLUH) message about wholeness, two LLUH programs are collaborating: the Children's Whole Health Initiative and the LLU Educational Theatre and Outreach Program (ETOP).