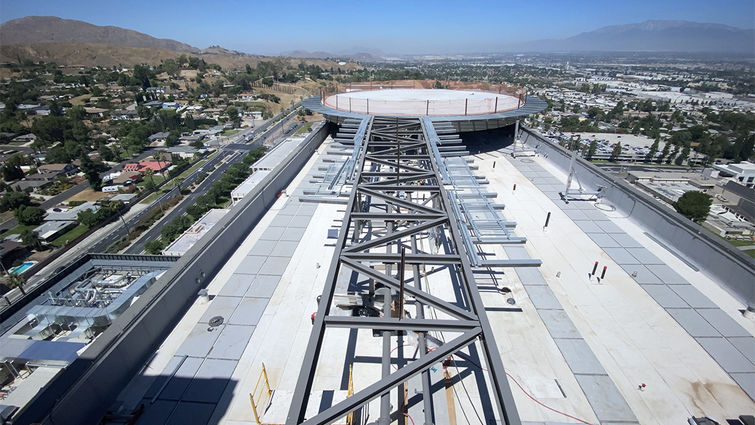 Because Loma Linda University Medical Center is a Level 1 trauma center, our highly skilled team treats the most critical trauma patients. Many of these patients arrive at the Medical Center via helicopter, reducing transportation time and facilitating the immediate essential emergency care required.
A new helipad situated on the 16th floor replaces the well-used helipad on the roof of the current Cloverleaf facility. The new helipad has been built strong enough to withstand the landing of a 22,000-pound Black Hawk helicopter.
Once patients are transferred from a helicopter, the emergency team rushes the patient down a large ramp, which leads to an elevator lobby. The elevator can be overridden to take arriving patients directly to the Emergency Department or Operating Room for life-saving treatment.
This helipad is specifically for use by the Adult Hospital, as the helipad on the south side of the existing Children's Hospital is still in conforming space.   
Fun Facts:
    Standing on the helipad gives visitors amazing views of the Inland Empire.
    The new helipad is 3,117 square feet
    In 2019, 1,337 helicopters landed here at Loma Linda University Health.
We're sharing photographic updates of the hospital construction work on a periodic basis. Watch for special emphasis on some of the behind-the-scenes-views and untold stories at the Vision 2020 website.
This vignette is adapted from a blog by Dennis E. Park, which appears on the website www.docuvision2020.com.