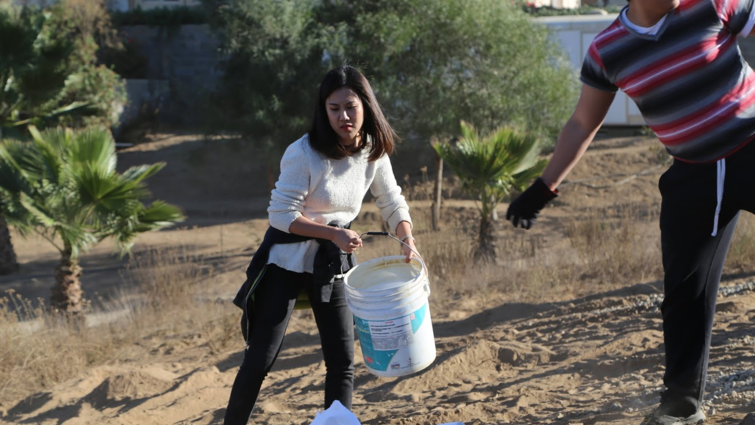 "For Helen Mi Hye Rhee, mission trips are a time for her to see what God is doing and an opportunity to learn what needs exist beyond her everyday reality. Her most recent mission trip to Uruapan, Baja California, Mexico, was no exception.
A third-year student at Loma Linda University School of Pharmacy, Rhee set out on the four-day trip with seven other students from the school during their winter break. Although a short trip, the group was able to meet with locals, hold a health fair, serve children at an orphanage, and provide labor to repair things around the property.
Most of their time was spent at the Mount of Olives Children's Village, an orphanage operated by Missions Network International.
"We were completely humbled by the grace of God," Rhee said. "We saw the miraculous work that God had put on at the orphanage and also saw the need for medication education in these areas."
Nithya Abraham, also a third-year student at the School of pharmacy, chose to study at Loma Linda University specifically because the curriculum has a service component. Having been on mission trips prior to coming to LLU, Abraham said this trip allowed her to focus on health care and utilize skills she'd learned as a pharmacy student.
On day two of their trip, the students held a health fair at a local church to teach families about proper hand washing, oral hygiene and medication safety.
"Teaching basic medication safety to the kids in Mexico was a humbling experience," Abraham said. "It's the little things like teaching them to always ask an adult before taking medicine, and not picking stuff up off the ground can often be taken for granted, but kids need to learn these valuable lessons."
Rhee added that medications are so readily available in Mexico that "it's easy for them to take the wrong medications and doses. A lot of counseling is needed as well as more regulations on medications."
The students also got their hands dirty — literally — spending a day working on the orphanage property. They dug a hole for their new irrigation system, fixed the hen house, painted walls, and trimmed the palm trees.
But this trip wasn't all work and no play. The students spent time with children playing soccer, visiting with families and singing songs.
Abraham admits before going on the trip she and her classmates weren't sure how it was all going to work out, but they all shared a common goal: to serve God.
"We stayed true to our values and to those of Loma Linda University, and that translated in our efforts," Abraham said. "It's easy to get caught up at school and the stress of tests and studies but going on the trip reinforced my desire to serve."
Reflecting on the success of the trip, Rhee added, "God has the amazing ability to combine all of our seemingly insignificant gifts to help us shine and glorify Him."
"What an incredible experience to have had students from the LLU Schools of Dentistry, Nursing and Pharmacy all together sharing their professional skills at a health fair with the local Seventh-day Adventist Church in Ensenada and then, hand-in-hand with one another working together on needed projects at the Mt. of Olives Children's Village, in the little town of Uruapan," said Gary Kerstetter, DDS, director of service learning. "The shared words and thoughts by these students of what this life-changing experience in mission service has meant to them was absolutely priceless."