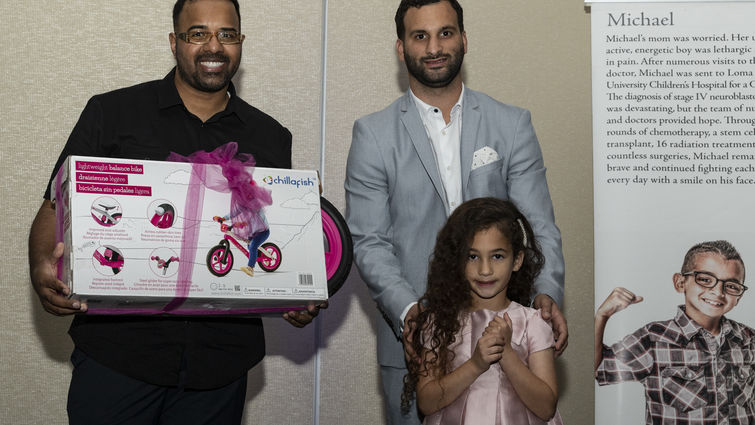 More than 320 people gathered together in the spirit of philanthropy to benefit children being treated at Loma Linda University Children's Health – Indio, Jill & Barry Golden Pavilion, during the Big Hearts for Little Hearts (BHLH) Desert Guild signature fundraising event on February 3.
The event, titled "It's All About The Kids," featured multiple opportunities to raise money for Children's Health, including a silent auction, an "almost live" auction, live auction and a dashboard for attendees to pledge any specific amount of money listed. Attendees also participated in a live auction to "Fund-A-Vision," which raised $50,000 for a Mindray M8 Elite Advanced Ultrasound needed by the Indio clinic.
A former Loma Linda University Children's Hospital patient, Codi Pelton — alongside her family and her Children's Hospital physician, Matthew Bock, MD — shared her journey leading up to receiving a heart transplant after two and a half years of waiting.
The BHLH Desert Guild gifted a bike to Dior Halum, 6, a junior philanthropist who recently donated her birthday toys to the Indio clinic in December, 2019.
In an additional special moment, officials from the City of Indio began the evening by unveiling a proclamation from the City of Palm Desert declaring February 3 to be "Children's Day."
Members of the BHLH Desert Guild annually lend their time, talents and financial support. Over the past 17 years, they have raised more than $8.3 million to serve the children in their valley. The BHLH Desert Guild hosts four patient diversionary events and multiple "friend" raising events throughout their season, including the Jimmy Choo event, Kendra Scott event and its annual membership tea.