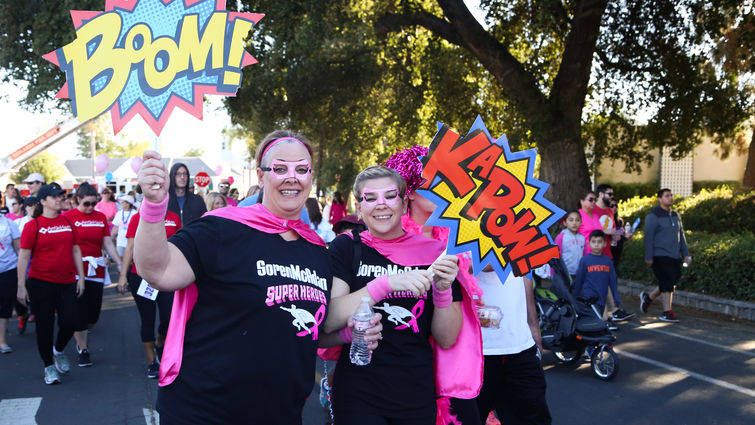 If you were walking through Redlands at 8 a.m. Oct. 2, you might have stumbled upon a horde of men, women, children and dogs all dressed in pink crowded together on State Street. Why? Because this group of people believes.
The Believe Walk, an annual fundraising event presented by Stater Bros. Charities and Inland Women Fighting Cancer, celebrated its 9th anniversary last week. Raising money to fight all cancers, the Believe Walk focuses on creating a community of support for those impacted by this disease while providing walk participants the opportunity to show their support by taking part in a 5K around Redlands.
Attendance was stupendous with thousands of walkers donning their favorite pink tutus, dying their hair shades of red, pink and purple, and waving signs with words of encouragement, honor and bravery for those they love.
As the walk kicked off, excitement and enthusiasm filled the air.
Keturah Reed, project coordinator for Loma Linda University Health Advancement Films, said, "The energy was amazing! I love to see how the neighborhoods, various organizations and groups come together to support and display their various talents or even hand out water. It's really a community affair and I love it!"
The streets were lined with volunteers, onlookers and entertainers. From homeowners decorating their yards with words of encouragement and buckets of water for the four-legged participants, to local cheerleading squads, Girl Scouts, jugglers, dancers, acrobats and others, all showed their support by creating a fun environment for the walkers.
Believe Walk sponsors Loma Linda University Health and Loma Linda University Cancer Center, were there in full support, hosting a booth at the beginning of the race at the survivor lounge and then a booth at the finish line. The first booth was for cancer survivors to relax, enjoy a cool towel and have their photo taken. At the second booth, open to all, volunteers passed out breast screening flyers and Nektér juice.
In August, Stater Bros. Charities and Inland Women Fighting Cancer made a special delivery to LLU Cancer Center. With funds raised from the 8th annual Believe Walk, they were able to donate $175,000 to the center.
Judy Chatigny, MSN, RN, executive director of the Cancer Center, expressed her gratitude to those present at the donation. "These gifts are what afford us the ability to provide services to the patients who are otherwise unfunded," she said.
The $175,000 will be dedicated toward supportive care services for cancer patients, which are typically not covered by insurance companies.
Andrew Haglund, director of enrollment and alumni affairs for Loma Linda University School of Pharmacy, shared that after experiencing the Believe Walk last year while his wife, Laurel was fighting cancer, he truly values the awareness that this event brings to cancer.
"The Believe Walk has become a very important event for our family," Haglund expressed. "Laurel was in the middle of chemo treatment last year during the walk and was completely overwhelmed with emotion when more than 150 family members, friends and church members turned out to walk in support of her fight."
In addition, Haglund shared that Laurel's team raised almost $20,000 last year, which was part of the $175,000 gift made to LLU Cancer Center. Today Laurel is cancer free, and the family walked for another friend who was recently diagnosed.
"We believe that events such as this raise awareness and the necessary funds that will develop the cure to this awful disease," said Haglund.
So far, fundraising for the Believe Walk has achieved $269,166 of the $375,000 goal set for 2016. To donate, please visit www.believeinlandempire.com. Your donation can make a difference. Just remember the Believe Walk motto: "All things are possible for one who believes."