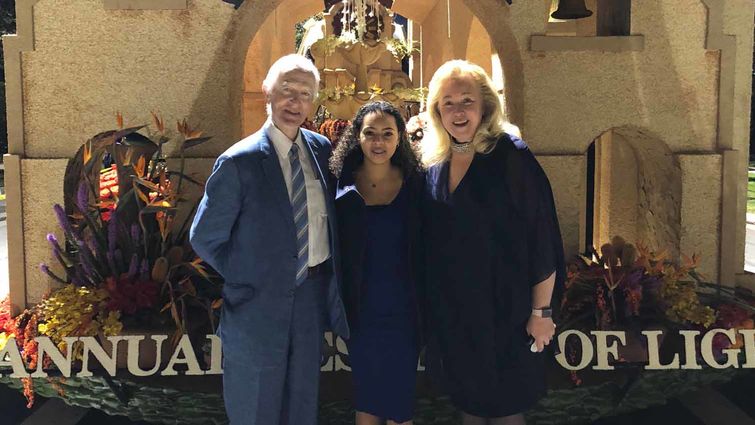 Three Loma Linda University Health (LLUH) representatives were guests on the City of Riverside's float in the 129th Rose Parade on January 1, including Leonard Bailey, MD, the prominent pediatric heart surgeon.
Bailey is the chief of surgery for Loma Linda University Children's Hospital (LLUCH). He became known internationally in 1984 after transplanting a baboon's heart into an infant girl and has since continued doing what he loves: using his abilities to make a difference in patient's lives.
Also on the float was Lexi Anderson, a patient who had a critical heart condition and underwent a successful heart transplant surgery at Loma Linda University Children's Hospital last March. Because of the complexity of care that LLUCH can treat, the Chino Hills High School student can continue to make a difference in her school and community.
Rachelle Bussell, MA, senior vice president for advancement at LLUH, also joined the group. Bussell is working to transform health care for our region through her professionalism, as well as her passion for making a difference through world-class health care and education.
This year's float honored Duane and Kelly Roberts, who own and revived the Mission Inn Hotel & Spa, making it a distinguished cornerstone of the city, by keeping with the 2018 theme of "Making A Difference." Kelly serves on the Children's Hospital foundation board and invited LLUH representatives to join the Riverside float in the parade.
Other riders on the float included Riverside Mayor Rusty Bailey and his family; members of the Fox Foundation; members of the Mary S. Roberts Foundation, which is known for its effective pet adoption center; members of the Olive Crest, which helps abused and neglected children; and members of the Mission Inn Foundation.
The float was the first from Riverside in nearly 60 years and symbolized the strong bond between the city, the community and the historical and iconic hotel.
The City of Riverside's float won the parade's Golden State Award for "most outstanding depiction of life in California."