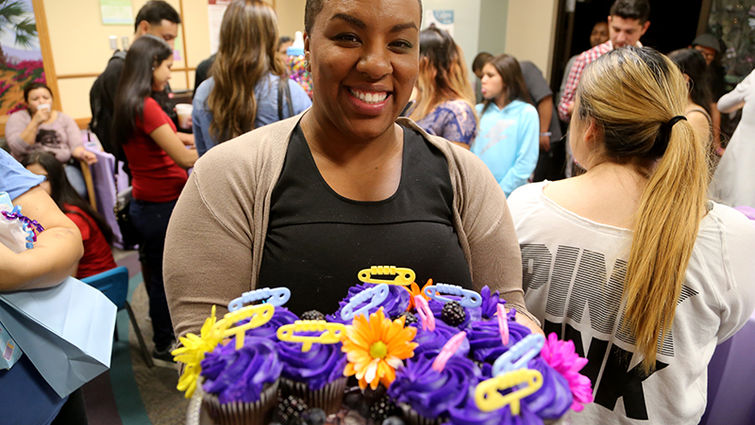 A special baby shower, which was held in a waiting room outside the neonatal intensive care unit (NICU) at Loma Linda University Children's Hospital on Tuesday, November 8, called attention to the struggles of families with premature babies.
Chris Huyett, senior development manager for the March of Dimes in the Inland Empire, said her organization joined forces with American Medical Response (AMR) because giving birth to a premature baby can turn what should be a happy, joyful experience into a nightmare.
"Most families in the NICU missed the joy of celebrating the upcoming birth of their baby with families and loved ones," Huyett observed. "They were unexpectedly thrown into a whole new chaotic world. We decided to bring the baby shower to them."
Doug Key, regional director of AMR, agrees. "Normally, our role is to serve families in the moment of crisis," Key noted. "We are delighted to support March of Dimes in creating a few hours for these families to pause and celebrate the birth of their child."
Pausing and celebrating is exactly what happened at the Loma Linda event as an estimated 70 families enjoying food, camaraderie, games, fun, and most of all, the support of knowing they aren't alone.
Huyett notes that a family's world is "immediately turned upside down" when a baby is born too early. "All plans and dreams suddenly are changed," she noted, "and the family begins riding an emotional roller coaster, with good days and bad days."
She should know. Twelve years ago, Huyett learned first-hand just how devastating prematurity can be when she returned to the NICU room her son Dutch was sharing with two premature twins.
"I had been told Dutch only had a 25 percent chance of surviving," she recalls, "but it didn't really hit home until I came back to the room one day and there were only two beds. One of the twins didn't make it."
Fortunately, Dutch, 12, and his brother, Blake, 9, who was also born prematurely, are both doing well today, and Chris has focused her career on helping other families cope with the danger and uncertainty of prematurity.
Jeremy and Erin Fitzgerald lost their first child to prematurity in 2001. Since then, however, they have brought a daughter, Sienna, and son, Shane, into the world. Both kids joined their parents at the event wearing purple T-shirts that show their support for the March of Dimes' March for Babies.
Erin serves as a family teams chair for the organization and helps to raise an average of $4,000 a year to support research and treatment. "We've been marching ever since 2003," she adds. "Some years they have been 10K walks, but recently they've been 5Ks."
Erik and Vicki Inderbitzen experienced the turmoil prematurity imposes when their son Connor was born at 24 weeks of life eight years ago.
"He weighed 1 pound, 12 ounces," Vicki remembers. "It was very stressful. I was working in Newport Beach and driving out here every day. One of the hardest things was hearing the beeping monitors and wondering what they meant."
Connor is doing very well today. When asked, the healthy, 52-pound third grader says his favorite subject is math. "Especially multiplication," he adds. His mom says he also loves tennis and running.
Gabriela Campos is facing the difficulties of prematurity right now. Her two-month-old son, Emmett, is currently recovering in the cardiac care unit at LLUCH, but Gabriela says making the commute from her home in Adelanto every day poses logistical challenges.
"I'm used to it now," she says, "coming to see him every day. Fortunately, he's getting better and doing well."
The March of Dimes says one in 10 babies in the United States is born prematurely, and points out that prematurity is often associated with lifelong health problems, such as cerebral palsy, vision and hearing loss, and learning disabilities. The organization cites a study by the National Center for Health Statistics, which found that 5,197 babies were born prematurely in San Bernardino and Riverside counties in 2014. That averages to 14 premature births per day. Normal gestation is 39 weeks and babies born at 37 weeks or earlier are considered pre-term. 
Donna Goff, MD, MS, assistant professor of pediatrics at Loma Linda University School of Medicine, is grateful to the March of Dimes for the hand it extends to premature babies and their families.
"Many of these families need respite from the days of worry and fear in the unfamiliar surroundings in which they find themselves," Goff noted. "We are grateful to March of Dimes for all the research, advocacy, education and support they do to improve the health of babies by preventing birth defects, premature birth and infant mortality."