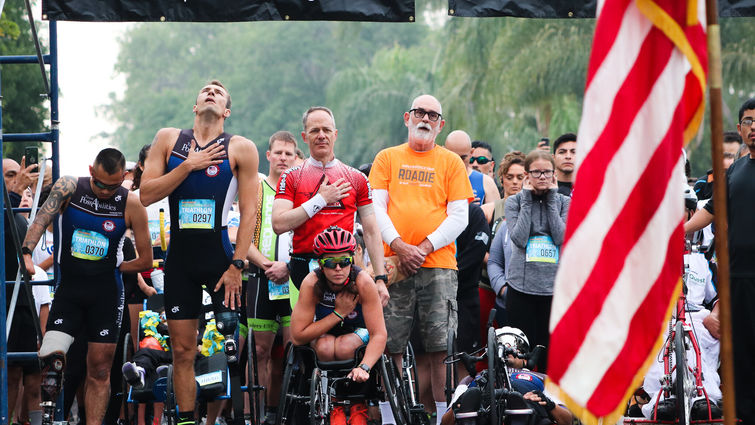 Nearly 1,000 athletes of all abilities triumphantly ran, walked, wheeled, biked and swam their way through the 17th annual PossAbilities Triathlon, 5K, & Kids' Triathlon held at Loma Linda University's Drayson Center, Sunday, April 28. The event included both an adult and children's triathlon, 5K run, fun activities, and vendor booths for families to explore. All athletes received official finish times and a finisher medal. ​
Cotie Williams, interim program director of Community Development and Outreach at Loma Linda University Health, noted some participants are members of PossAbilities and former patients at Loma Linda Medical Center East Campus and that the community program was originally created to serve as a continuum of care for the patients.​
"Today we had many challenged athletes participate who had been recent patients, and it's incredible to see them post-injury, through rehab, and now thriving," Williams said. "It's empowering to see how the mission of Loma Linda University Health 'to make man whole' is evidenced in an event like this."​
The annual triathlon sets out to bring together athletes of all abilities and ages in friendly competition and serves as preparation for some PossAbilities members who are professional athletes and Paralympic hopefuls. ​
Zimri Solis, a trilateral amputee from Jurupa Valley, has been competing in the event for four years and had a goal of completing the course in under 1 hour and 10 minutes. Zimri met his goal and completed the course in 1 hour 7 minutes and 44 seconds.​
"It's really exciting to meet this goal," Solis said. "Each year is a new challenge, but at the end of the day being a part of this triathlon is an opportunity to better myself as a person and an athlete. The ultimate goal is to positively impact people so they can keep achieving their goals."​
Andre Barbieri has been participating in the event since 2011. Like Solis, the triathlon has served both as part of Barbieri's journey to the Paralympics, as well as an opportunity to support the program he cares about.​
"PossAbilities has given me so much," Barbieri said. "What little I can do to give back I will, because the program has helped me become an elite athlete, and I'll be forever thankful for that." ​
The event is hosted each year by PossAbilities, a free community outreach program of Loma Linda University Health that offers disabled and challenged individuals a sense of community and healthy social network. ​
For more information about PossAbilities, call 909-558-6384, email possabilities@llu.edu, or visit the website teampossabilities.org.  ​
For more information about inpatient and outpatient healthcare services provided at Loma Linda University Medical Center East Campus, call 909-558-6000 or visit the website.