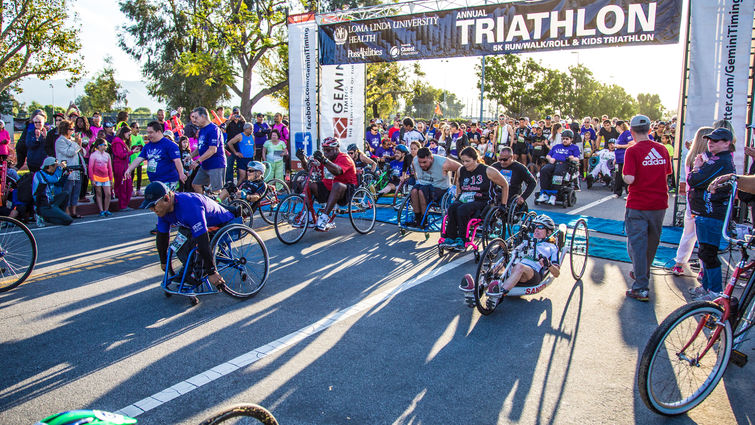 Community athletes of all abilities and ages are invited to participate in the  17th annual PossAbilities & Kids Triathlon on Sunday, April 28, at Loma Linda University Drayson Center, 25040 Stewart Street in Loma Linda.​
The adult triathlon begins at 7 a.m. and is composed of a 3.1-mile run/walk/roll, 11-mile bike, and 150-yard swim at the Drayson Center Pool. The kid's triathlon begins at 9 a.m. and includes a 1/4-mile run/walk/roll, a 1/4 mile bike ride and a 25 yard swim. All participants will receive official finish times and a finisher medal. In addition to the two triathlons, the event will feature a 5K run, fun activities, and vendor booths for families to explore.   ​
Cotie Williams, program manager of Community Outreach and Patient Experience at Loma Linda University Health, says "The triathlon was designed to bring a range of athletes together of different ages and abilities for a fun community event. The triathlon is also a unique opportunity to bring awareness to PossAbilities and showcase athletes of all abilities."​
PossAbilities members include individuals who have endured permanent injury from limb amputation, stroke, spinal cord injury, traumatic brain injury, multiple sclerosis, muscular dystrophy and other causes. Williams says their professional athletes and Paralympic hopefuls rigorously train for events such as the triathlon.​
Zimri Solis, a trilateral amputee from Jurupa Valley, has been competing in the event for four years. He said his goal this year is to improve his speed in running, biking and swimming. Zimri is a sponsored member of Team PossAbilities training for the Paralympics. ​
Solis said his time last year was 1 hour and 14 minutes. This year he wants to complete the course in under 1 hour and 10 minutes. "My hope is that all my training will pay off," he said. ​
Online registration is open until 2 p.m. on April 26 and can be accessed at  teampossabilities.org/events. Additional information regarding parking, adult and kids triathlon route, and volunteer sign-up can be found online.​
PossAbilities is a free community outreach program of Loma Linda University Health that offers disabled and challenged individuals a sense of community and a healthy social network. For more information about PossAbilities, call 909-558-6384, email possabilities@llu.edu, or visit the website teampossabilities.org.