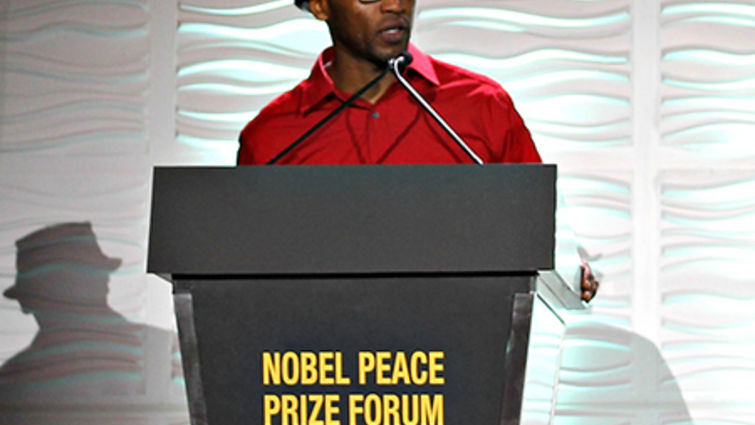 From August 5 to 21, the world's top athletes are gathering in Brazil to compete in the Olympics. This week, a singer from the Inland Empire, Rocky Peter Ajoku, is in Rio de Janeiro as part of the Olympic Truce Peace Campaign.
Ajoku's journey to becoming an advocate for the child slavery epidemic began when he was living in Nigeria. His father abandoned the family when he was just 2 years old.
The family lived without running water, and experienced hunger every day. Even after becoming a child slave, "I never gave up hope," Ajoku says. He immigrated to the U.S. as a teen.
"I met Rocky at a fundraising event in Riverside," says Carla Lidner Baum, DDS, MS. Lidner Baum, who received her DDS degree from the School of Dentistry in 1990, has worked as assistant professor in the school since 1996. The young man's story and his resiliency inspired her to help.
After completing high school, Ajoku studied biology at University of California Riverside. Because he was unable to afford housing, a local donut shop, Freshh Donuts, became his home. He slept in the shop, and spent many hours there studying and singing. It was the shop's baker who gave him his first guitar.
In 2015, at the time of the fundraiser, Ajoku had just auditioned to become an American Idol contestant.
"When I met him," says Lidner Baum, "Rocky had made it through the first rounds of the competition. I bought a guitar for him, bought him a computer and gave him the funds needed to go to American Idol.
"Someone who was helping organize the 2016 Nobel Peace Prize Forum," she recalls, "saw a video that American Idol had aired about Rocky having been a child slave in Nigeria. Rocky was contacted and although he was very excited to be invited to sing at the Nobel Peace Prize Forum, he said that his 'mom' needed to be invited, too.
"The Nobel Peace Prize Forum," says Lidner Baum, "is sponsored by the Nobel Peace Prize Institute in Norway. It's held in America every year and gives America's best strategists the opportunity to focus on the work of the Nobel Laureate of a previous year. Invitees include people from around the world who are working for peace and prosperity."
This year, the forum honored Nobel Peace Prize Laureate Kailash Satyarthi, whose personal mission is to end child slavery and child trafficking. The forum also examined the peace and security implications of, and connections between, human trafficking, migration, refugees and climate change.
Responding to Ajoku's request, Peace through Commerce, a forum presenter, invited Lidner Baum and Ajoku to be a part of their breakout sessions.
During closing ceremonies, she also appeared with the Nobel Laureate whose work had been highlighted at the Forum, and with Ajoku.
His closing ceremony performance is available on YouTube.
"All three days of the forum will remain forever in my memory as three of the most exciting and meaning-packed days of my life," says Lidner Baum. "I made cherished friendships there that I hope to maintain. Stories I heard at the forum were not unlike the stories of Loma Linda University alumni serving locally and throughout the world of which I am familiar and so proud."
After meeting Ajoku and hearing his story at the Nobel Peace Prize Forum, Louis J. D'Amore, founder and president of the International Institute for Peace Through Tourism, contacted the Olympic Truce Peace Campaign. This resulted in Ajoku's invitation to appear in Rio.
While Lidner Baum nearly didn't attend the fundraising event two years ago, her kindness to a stranger she met that night led to unexpected connections that are leading to future projects, including a Peace Through Healthcare model that she is developing and is hoping to present at a future forum.
"The Peace Through Healthcare model that I'm working on," she says, "may have found a home as an arm of the existing International Institute for Peace Through Tourism. It will parallel the work of the friends I met at this year's forum who are doing so much to influence change."