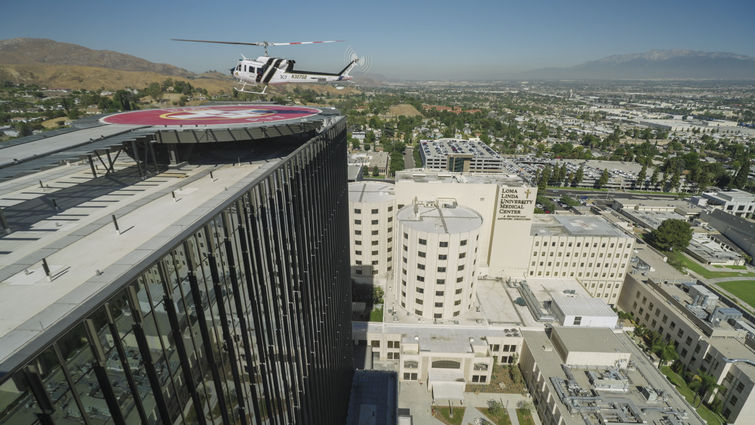 Loma Linda University Health and flight crews working for the various air medical transport providers began training flights to the new heliport on top of the future Adult Hospital tower. The sessions began Friday, June 25, with training for the San Bernardino Sheriff's Aviation.
Each of the sessions involves orienting pilots to approved approach and departure paths and practicing landings and takeoffs. Pilots will also be introduced to the new heliport's safety features, including emergency exit routes, fire extinguisher locations, how to activate the foam fire-fighting system, and the walking route from the heliport to the Emergency Department on the second floor.
A secondary objective for the initial training flights was determining the sound level inside the 16th floor Board Room and Executive Conference Center during a helicopter landing. Sheriff's Aviation was invited to participate because they routinely land with large, loud Bell 212 and Huey helicopters.
The Dennis and Carol Troesh Medical Campus' new heliport has been designated as "East Heliport." Located on the west side of the future Adult Hospital Tower, the tower is 65 feet in diameter and has been designed to support helicopters as large as the Sikorsky UH-60 Blackhawk helicopter, which weighs more than 13,000 pounds. The East Heliport's landing surface is 1,380 feet above sea level and 241 feet above ground level. An 82-foot ramp connects the pad to the hospital entry doors.
Future orientation sessions will allow pilots from Mercy Air, Reach Air Medical, the California Highway Patrol, various military transport units, and others to familiarize themselves with the new helipad and its unique features.
"We consider all our air providers as valuable partners in Loma Linda University Health's mission to serve the community," said Ehren Ngo, emergency operations manager. "We particularly want to recognize Mercy Air, our contracted provider for interfacility transports, for the crucial role they play supporting our NICU and pediatric transport teams. Mercy Air will be the next provider to participate in practice landings."