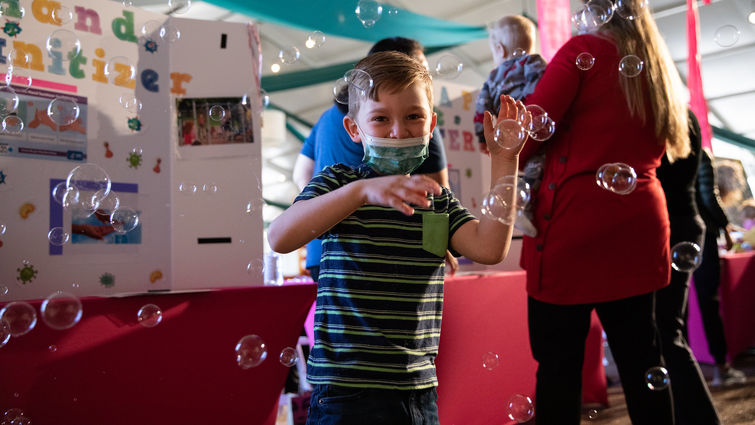 After a two-year hiatus, Loma Linda University Children's Hospital hosted nearly 600 people at the 37th annual Children's Day, presented by Farmer Boys, on Wednesday, March 9. Hands-on, educational activities were held both inside and outside of the large, tent-covered area on the Drayson Center's Superfield.
"We were thrilled to be here and we loved the venue," said a parent at the event. "It was outstanding being indoors with people again. My five-year-old son had a great experience — he didn't want to leave, and he wanted to come right back in."
The free event, designed for children ages 3-8, was attended by families, schools, and daycares across the Inland Empire. Children's Day has offered young kids the opportunity to experience various healthcare procedures and hospital settings in a fun, interactive and non-threatening way since 1985. 
Children's Day event coordinator Dorothy Brooks, MA, CCLS, said she's spoken with adults who attended Children's Day when they were kids. "They came back because it was their favorite field trip," Brooks said. "It is a treat to watch the children as they experience the fun learning opportunities that this day provides. It is delightful to serve our community this way."
Organized by the Child Life Services department at Children's Hospital, the event offered many opportunities for children to learn, including: 
Stitch station: children learned about having stitches through a hands-on activity.
Teddy bear clinic: children performed a "check-up" on dolls, stuffed animals, or teddy bears. 
Finger casting: children were able to learn about casts by creating them out of plaster on their own fingers. 
Dr. Hayes' Venomous Creatures: children were taught how to stay safe from many venomous creatures, including rattlesnakes, lizards, and more. 
Farmer Boy's Petting Zoo: children were able to pet a variety of animals, including chickens, a duck, pig, guinea pigs, bunnies, goats, and a tortoise. 
Pet's Aiding Wellness (PAWS): children were able to interact with trained therapy dogs who visit patients inside the hospital and other clinics.
Learn more about LLU Children's Health here.