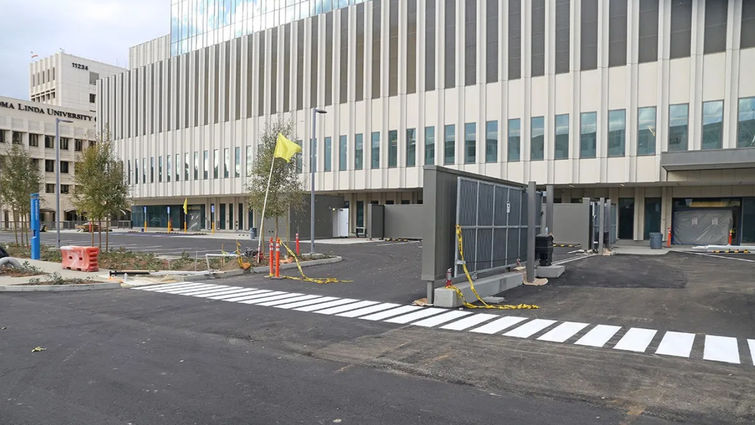 The frontage access road and parking areas adjacent to the new Emergency Departments have been paved and striped, and directional signage is being installed. The future hospital's emergency department is located on the second floor of the new structure, on the south side of the building.
Ambulances and other emergency vehicles approaching the new Loma Linda University Health hospital facility will enter the emergency department area from Barton Road. Emergency vehicles approaching from the west will take advantage of a special left-turn designed for easier access to emergency services. This new lane will allow ambulances to avoid making a U-turn at the Barton Road/Anderson Street intersection, saving several minutes and making the Anderson/Barton intersection safer for general traffic.
The Adult hospital and the Children's hospital each have their own separate licensed Emergency Departments. Arriving ambulances will have access to two trauma rooms in the Children's ED, and four trauma rooms in the Adult ED. Both departments will have separate walk-in entrances.
The future adult hospital and Children's Hospital towers will incorporate leading advances in patient safety and comfort. Designed to continue Loma Linda's 115-year legacy of outstanding care, the future hospitals will anchor the healthcare needs of a vast region of Southern California and serve as an educational and research hub to shape healthcare in the United States and around the world.
Dennis E. Park supplied these photos. He has documented much of the Campus Transformation Project on his website, www.docuvision2020.com.