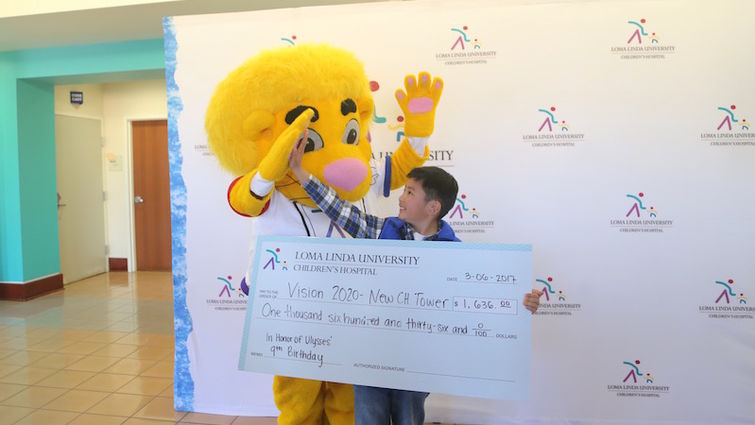 Instead of unwrapping gifts at his birthday party, Ulysses Hsu, 9, of Eastvale, was taking donations for Loma Linda University Children's Hospital (LLUCH).
At his ninth birthday party, Hsu told his friends that he wanted to help support Vision 2020: The Campaign for a Whole Tomorrow, and by doing so he raised over $1,600.
He stopped by LLUCH Monday, March 6 and presented a check for $1,636 to hospital mascot Luke the Lion in the lobby. Patients and staff also came down to meet Hsu, who was accompanied by his parents.
"Loma Linda University Children's Hospital is not an ordinary hospital," Hsu said. "It is a place of happiness, love, comfort and warmth."
This is not the first time Hsu has delivered a check the hospital. The junior philanthropist first donated money from his eighth birthday in 2016 in honor of a friend who had cancer.
Watch a video about Ulysses here.
Jill Payne, assistant vice president of philanthropy at Loma Linda University Health emphasized that Hsu's benevolence has sparked a trend in the Give Now Build Hope campaign.
"You inspired a lot of people this year," Payne said to Hsu, adding that several other kids have donated their birthday money to Vision 2020. "You've started a movement."
Give Now Build Hope is the public giving campaign that encourages anyone to give at any level toward the new Children's Hospital tower.
"Every little bit helps," said Joe Perry, assistant vice president of finance at LLUCH. "This is an amazing accomplishment and you make such a big difference in building hope for our patients."
To support please visit: LLUCH.org/BirthdayClub