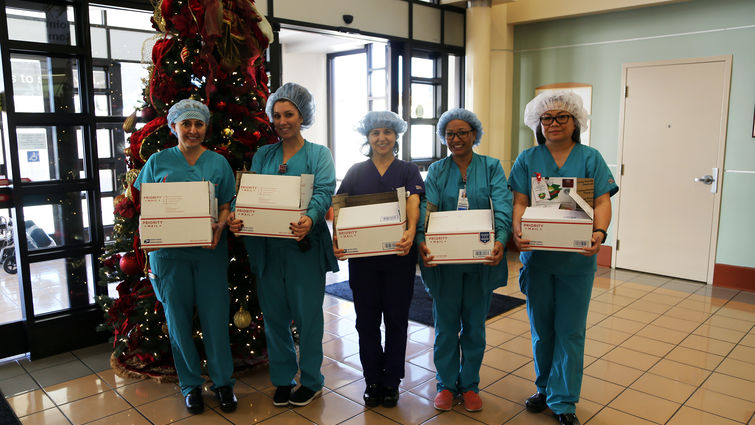 From students to surgeons, Loma Linda University Health individuals, departments and groups came together to sponsor more than 50 Christmas care packages for our missionaries serving overseas.
These 63 missionaries are Loma Linda University alumni, global service awardees, deferred mission appointees or Adventist Health International long-term volunteers. They serve in 18 different countries at Loma Linda University Health international partner sites as physicians, dentists, hospital administrators, nurses and public health educators.
Madeleine Chu, RN, specialty area coordinator for the Medical Center operating room, chose to sponsor a box for the Nkaya family, serving in Haiti at Hopital Adventiste d'Haiti.
"It's a small way to show our appreciation for our volunteers, but it has been a huge blessing for me and my colleagues," Chu said.
Program manager of international service at the Global Health Institute, Angeli Yutuc, MPH, said Chu's passion for the "Give to a Giver" project has inspired others in her department to sponsor boxes.
According to Yutuc, in 2018, the Global Health Institute saw the most boxes ever sponsored by one department — eight boxes.
"The Give to a Giver project really helps our volunteers to feel valued and remembered during the holiday season when they are not able to be with family or go home for the holidays," Yutuc said. "These small gifts are so appreciated by the missionaries."
"Our family was thrilled to receive little gifts and goodies reminiscent of home," said Lionel Nkaya, treasurer at Hopital Adventiste d'Haiti.
This year, 52 care packages were collected and shipped by Loma Linda University Health's Global Health Institute in collaboration with Students for International Mission Service and the National Association of Seventh-day Adventist Dentists.
To learn more about this project, contact Angeli Yutuc, MPH, program manager of international service, at 909-558-4876 or ayutuc@llu.edu.