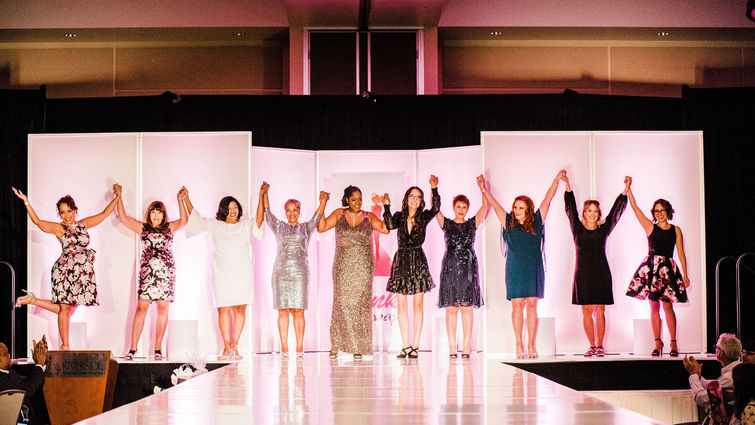 Pink lighting and applause greeted each breast cancer survivor as they walked across a fashion-show runway. They were adorned in everything from diamond gowns to hippie couture strutting down the runway in celebration, each moving with their own style — some dancing, some blowing kisses to the crowd, some whipping their hair gallantly with each turn. 
Though participants showed off different styles, they stood as one group united in one cause: celebrating their triumphant journey to becoming a survivor.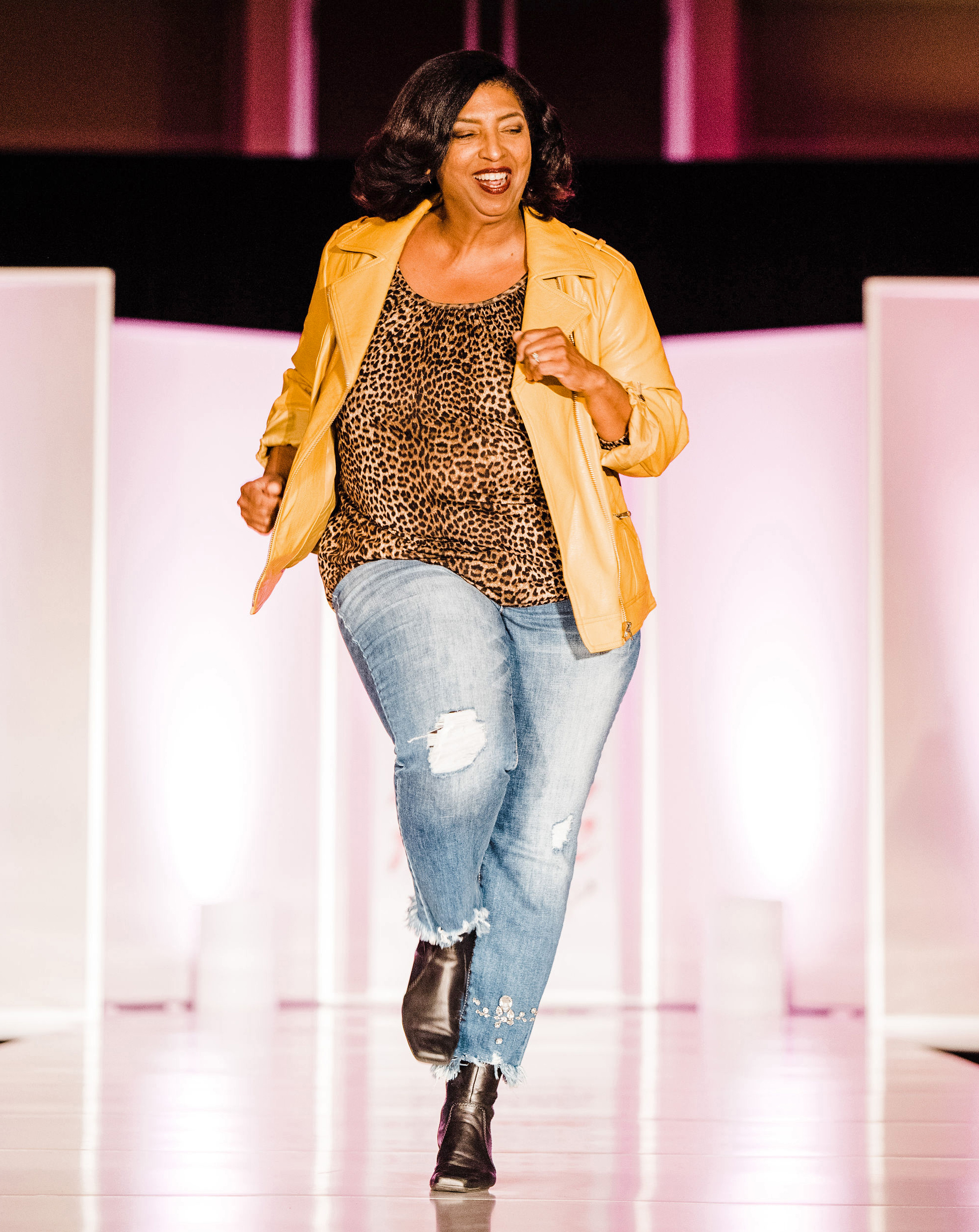 The Pink Runway 10th annual event, hosted by the Loma Linda University Department of Plastic Surgery on September 23, marked a decade of celebrating women who have not only beat cancer but undone reconstructive surgery after mastectomy. 
The event was created a decade ago by the department and Subhas Gupta, MD, PhD, chair of the department, in honor of cancer survivors and his mother-in-law, Geeta Sugandh, who passed away from breast cancer in 2008. The department gives an annual award in her honor, the Sunshine Award, to researchers who work diligently to shine light on the lives and survivorship of our breast cancer patients. Other activities included panels of expert physicians, nutrition and diet lectures, yoga sessions, and other forums educating and promoting wholeness to survivors. 
"A decade ago the loss of my wife's mother hit our family hard," Gupta said. "We knew we wanted to do something to empower women who have to battle the cancer she lost the fight against. To now see this event flourishing 10 years later is nothing short of amazing."
Sunday's event, held at the Riverside Convention Center, also featured a raffle, photo booth, lash bar, and a panelist of experts from Loma Linda University Health presenting facts about reconstructive surgery. The day concluded with the highly anticipated cancer survivors walk the runway in celebration of the new chapter in their life.
For the youngest of the 10 models, 36-year-old Marina Goodwin would have never thought her first fashion show would be the result of her life turning upside-down. A year ago, she found something unexpected.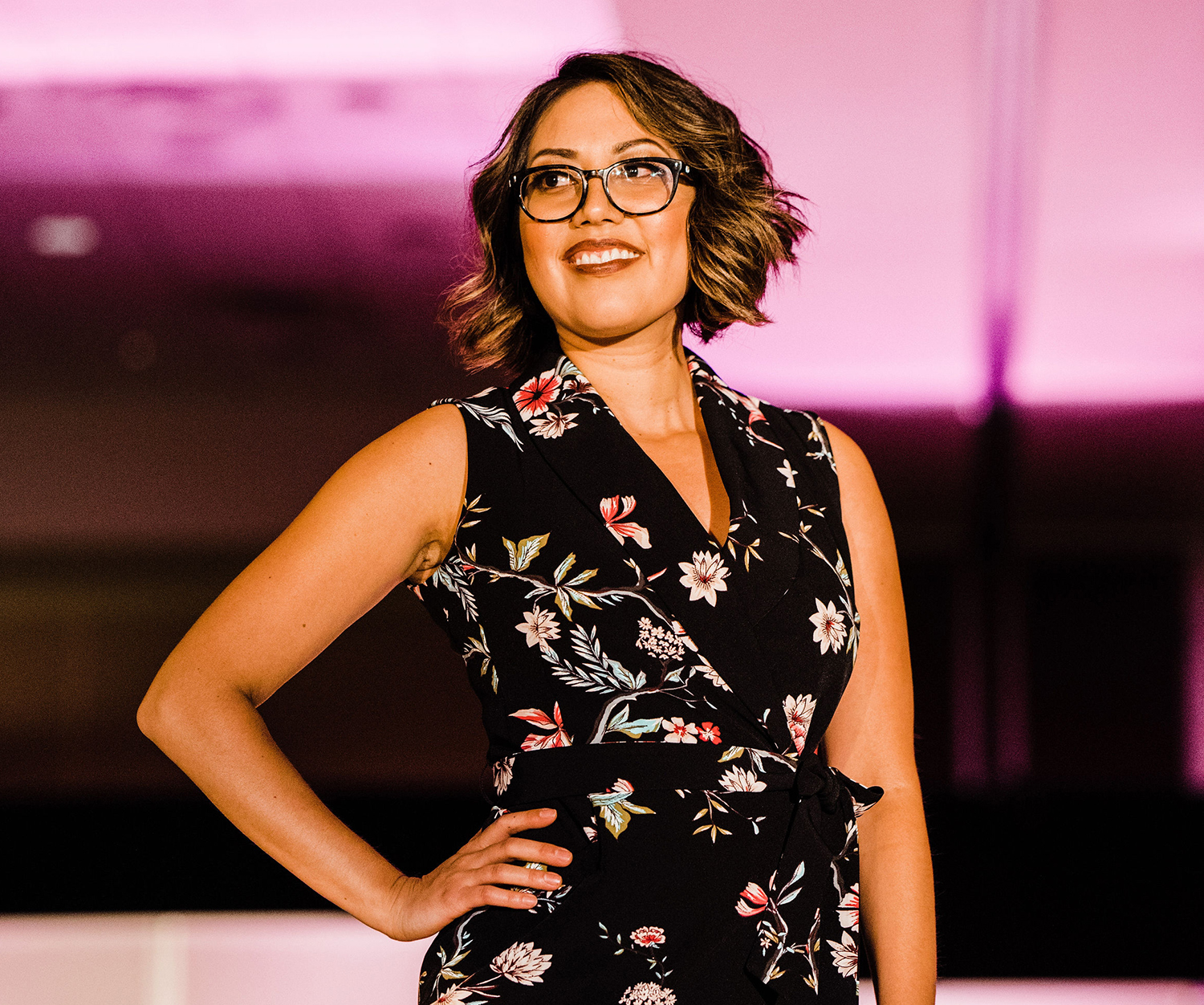 "I felt a lump in but I didn't think to call it a lump. It was so small I did not think anything of it," Goodwin recalled.
Goodwin was only 34 years old when she felt something small but abnormal. As a health-conscious and active young woman, she says she would have never thought it could happen to her, leaving her to ignore it for another year. In August of 2017, there was no more denying it. After some research and a few tests, it was confirmed — at age 35, she would be joining the fewer than 5 percent of women who have breast cancer under 40, according to Susan G. Komen for the Cure.
But numbers and facts became her ally instead of what frightened her. 
"My stepson said this is the most researched cancer," Goodwin said. "So, if you are going to have a cancer this is the one to have because there is a lot of research and advancements. It is not a death sentence."
She began her journey by choosing to have her care at the Loma Linda University Cancer Center. A team of doctors gave her a customized plan of action, and she ultimately decided on a double mastectomy. The same day she had her breasts removed, plastic surgery specialist Hahns Kim, MD, was able to begin her reconstruction. With her final reconstruction in March of this year, she was ready to close this chapter of her life in a big way, by modeling for the 10th annual Pink Runway. To her surprise, her plastic surgeon was sitting front and center cheering her on. 
It is a moment Kim said he looked forward to all year because he got to see her journey unfold from the beginning. 
"Our motto at Loma Linda University Health is to make man whole," Kim said. "The fashion show is a great way to do it because it allows the community to rally behind these women in celebrating their survivorship."
For Goodwin, celebration is all she could think about while walking that runway with confidence and being free of cancer. 
"This is my graduation from this chapter because it is almost exactly one year since it all started," Goodwin said. "It is a good way to close this chapter and see God's faithfulness over my journey to healing," Goodwin says.