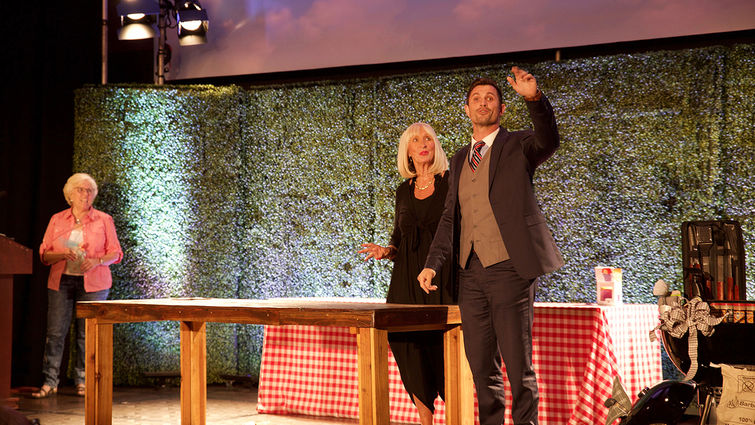 The 19th annual Dishes for Wishes cooking school and fundraiser raised nearly $58,000 to benefit the patients of Loma Linda University Children's Hospital.
The event was held Wednesday, Oct. 17, at National Orange Show Events Center in San Bernardino. It featured a presentation by Andrew Hopper, MD, a neonatologist, who thanked event sponsor, Big Hearts for Little Hearts Loma Linda Guild, for funding the purchase of several near-infrared spectroscopy (NIRS) oximeters. Hopper said the sophisticated tools will enable physicians on the neonatal intensive care unit to monitor oxygen-saturation levels in the brain, kidneys and gastrointestinal tracts of extremely premature, low birthweight infants. 
Hopper also said neonatal oximeters don't require physicians to insert needles or lines into the bodies of vulnerable infants, but do notify physicians if oxygen saturation levels fall. Fortunately, early detection allows physicians to respond before dangerous levels are reached.
Tawnia Tapia, the mother of Children's Hospital patient Cody Tapia, offered a touching tribute to the physicians and staff members who fought bravely to save Cody's life despite the fact that he was born prematurely at just 23 weeks. For his part, a healthy Cody alternated between hiding in his father's arms and looking out at the audience during his mother's presentation.
Other highlights of the evening were culinary demonstrations by celebrity chefs from the Inland Empire and Desert regions — accompanied by servings of the delectable delights — and the humorous, unpredictable commentary of restaurateur and realtor Martha Green.
Green, a fixture of both the Inland Empire culinary scene and all 19 Dishes for Wishes events, was in rare form throughout the evening, joking with law enforcement officers and members of Teen Challenge who served as waitstaff for the evening, as well as with chefs demonstrating their recipes onstage.
Angie Temple, who has organized the event for the last seven years, said 370 people attended this year. Afterward, Guild President Lynn Sleeth had high praise for the event.
"This was just amazing," Sleeth said. "Not only did scores of people turn out for the event, but everyone seemed to be having a great time. The food was exceptional and Martha Green was funnier than ever. I'm grateful for everyone who worked so hard to make this such a success, especially Angie Temple. This was the eighth year she's done this and every time, I keep thinking she can't possibly improve on the one before. She's proven me wrong once again. Awesome event!"