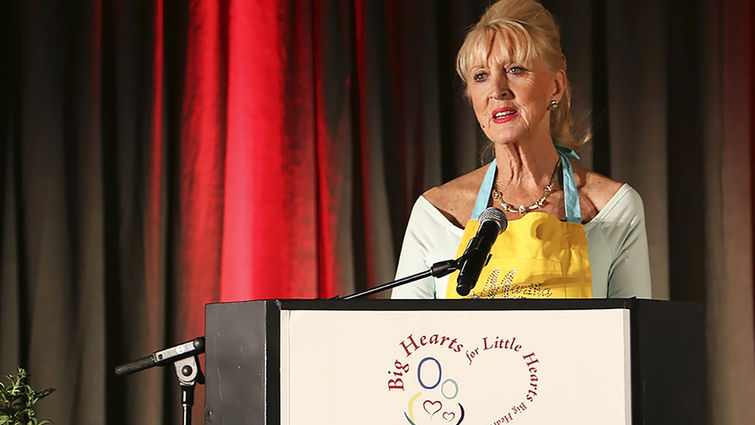 Dishes for Wishes, an annual cooking demonstration hosted by the Big Hearts for Little Hearts Loma Linda Guild, will take place Wednesday, Oct. 17, from 5 to 9 p.m. in the Renaissance Ballroom of the National Orange Show Events Center, 689 S. E Street in San Bernardino.
The 19th annual event, a fundraiser for Loma Linda University Children's Hospital patients, will feature specialty boutiques, an opportunity drawing, a colorful booklet of recipes to take home and cooking demonstrations with celebrity chefs from the Inland Empire and Desert regions. The food will be served by local law enforcement officers, firefighters and Teen Challenge representatives. 
As she has every year since the event started in 1999, Inland Empire chef/provocateur Martha Green will serve as mistress of ceremonies. Last year, Green startled guests at the 18th annual Dishes for Wishes by announcing that she would retire from the event after turning 75 in 2018. Moments later, she reversed her decision and promised to continue as hostess until 2020. One way or another, Green always leaves people talking, laughing or shaking their heads in the wake of her witty repartee.
This year's theme is "Backyard BBQ," but guests should not come expecting hot dogs and baked beans. Instead, five celebrity chefs will bring a bit of international intrigue to the all-American motif. Four of the chefs — Martha Green, Patty Keresoma, Najwa Medina and Greg Sullivan — are well-known to Inland Empire foodies.
Green owns Martha Green's Eating Room and Dough'Lectibles Bakery in Redlands. Keresoma, of 'Da Island Touch catering, brings Polynesian flair to her creations. Medina, of Najwa's Mediterranean Cuisine in Loma Linda, introduces Middle Eastern flavors into the mix. Sullivan, executive chef and director of food services/catering for Loma Linda University, is no stranger to cooking for large crowds.
Chef Pepe Schaefer may not be as well-known in the Inland Empire as the others, but that will likely change the moment guests sink their teeth into his innovative Peruvian fusion cuisine. Originally from South America, Schaefer recently moved to the Coachella Valley after serving as an executive chef in New York, San Francisco and Washington, DC.
Funds raised at Dishes for Wishes will help the guild purchase several neonatal near infrared spectroscopy (NIRS) oximeters — technology that will allow physicians on the neonatal intensive care unit at Children's Hospital to monitor tissue oxygen saturation levels in the brain, the kidneys and the GI tract of extremely premature, low-birth weight infants. 
Neonatal oximeters don't require physicians to insert needles or lines into the bodies of vulnerable infants, but do notify physicians if oxygen saturation levels fall. Cerebral desaturation may indicate impaired oxygen delivery and poor perfusion to vital organs that can be dangerous, even deadly. Early detection allows physicians to respond before dangerous levels are reached.  
Additionally, having the NIRS oximeters at Children's Hospital will allow physicians to collaborate with other West Coast medical centers — including Lucile Packard Children's Hospital at Stanford University and three Southern California hospitals — in long-term research studies on the beneficial outcomes of neonatal oximetry.
Angie Temple, Dishes for Wishes coordinator, says last year's event raised more than $68,000 for Children's Hospital. She said she feels confident this year's Dishes for Wishes will be an occasion to remember.
"Who doesn't love a barbecue?" Temple asks. "There's just something delightful about it that can scarcely be rivaled. And since we're updating this American classic with flavors from the Middle East, Peru and Polynesia, anything can happen. This year's Dishes for Wishes should be one of the best ever!"
Admission is $65 per person or $650 for a table of 10. Corporate sponsorships are also available. Additional information and registration may be found at Dishes for Wishes.