August 2016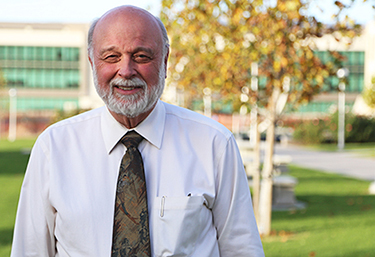 Alumni. It is what universities produce, what they brag about and what makes universities both famous and humble. Loma Linda University has had its share, an estimated 50,000 since we began our School of Nursing in 1905.
What stories they can tell. What stories we can tell. And because of that Blue Zone* thing, we estimate more than 35,900 of these graduates are still living. That's 72 percent. This is pretty remarkable for a university that started very small 111 years ago, offers health science only and is sponsored by a church that is now 93 percent based outside this country.
Our first school, Nursing, now has 9,458 graduates, including 1,344 from master's and doctoral programs. Our youngest school, Pharmacy, has 597 graduates and is fast growing that number. Its 10th anniversary class graduated in May 2015. Our School of Medicine will cross the mark of 11,000 alumni next May, the most of any medical school west of the Mississippi. We have 6,918 graduates from our School of Dentistry, 6,159 from Public Health, 13,446 from Allied Health Professions, 2,100 from Behavioral Health and even 65 from our School of Religion. We also count the many physician residents who did their specialty training here. There are around 7,000 of these residents and fellows alone!
But numbers are just numbers. The real impact are the individuals those numbers represent — alumni who have crisscrossed this globe many times, who have taken the unique Loma Linda message of health, healing and hope to the remotest corners. They have started scores of hospitals and training programs, treated millions upon millions of patients and brought comfort to many more. As a recent survey confirmed, they have made the world a better place by walking and working here.
Through the decades, each of our eight schools has nurtured its alumni and offered annual events and meetings for them. Most graduates cannot return each time, but many do, time and again, celebrating the school and relationships that gave them their professional lives. Many more send their children to school here, support us with their donations and share the Loma Linda story wherever they are.
For some time now, those of us who live and work here have thought, "What would it be like if we had one united alumni weekend instead of several — if we shared our stories and relationships with each other, spanning generations and disciplines, cultures and faiths?"
Recently in Dean's Council the idea came up again, and suddenly the sentiment grew: Let's do it! Let's truly become One Loma Linda. I asked the question again several weeks later. Did the deans really want to combine all their alumni weekends into one? Could we really accomplish this in 2017? Would the logistics work? Do we have room to host this? What would our alumni think? Would they enjoy or be frustrated by not having their own unique weekend? Currently these weekends start in mid-February and end in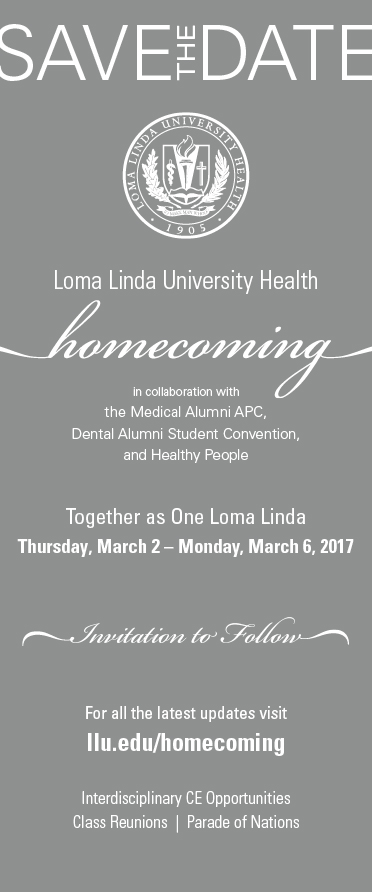 mid-April. Great times, but could they be even greater with shared programs on Sabbath, with couples and friends from different schools being able to attend and fellowship together?
And so planning started, hesitant at first, but picking up momentum with each discussion. The idea is to share activities on Sabbath, while maintaining separate continuing education classes on Thursday, Friday, Sunday and Monday for each professional discipline. We will meet in the Drayson Center for collective events, which can seat around 2,700.
Our colleagues at Loma Linda University Medical Center quickly suggested they would like to join the event, adding medical resident graduates and former staff members from all the Loma Linda entities.
The biggest question was which weekend to use. The largest alumni convention currently is the School of Medicine's, provided by their Alumni Association, called simply APC, for Annual Postgraduate Convention. In discussions with both the APC governing board and eventually the full Alumni Association board, we reached the decision to hold our proposed Homecoming Weekend simultaneously with APC. This would allow shared programming on Friday night and Sabbath, but still let APC maintain its usual programs, lectures and banquet, as many have come to expect.
They have graciously agreed to this strategy, so the planned dates will be March 2-6, 2017. Schools will continue to hold some of their own continuing education programs, but we will also identify and offer a number of interdisciplinary opportunities as well. We hope to have considerable reciprocity, however, so if someone sees an interesting topic offered by another school, she or he could attend that lecture.
We plan to start the shared programming Friday evening, with a vespers program at Loma Linda University Church. Sabbath morning programs will be in the Drayson Center for everyone, featuring special groups composed of both alumni and students. A large haystack lunch will follow by the pools at Drayson Center, giving opportunity to eat with friends and classmates. During the afternoon, there will be a variety of special tours, including one of our new San Bernardino campus. We will gather again for a mission vespers at 4:00 p.m. at the University Church organized by the Medical Auxiliary. Saturday evening will be a combination of class events and perhaps some special programs or presentations.
Does that sound like a weekend of inspiration and enjoyment? A time to celebrate our accomplishments and challenges, to fellowship and worship together? We will try it for this first year and then judge its impact and value. If it is as successful as we hope, it can become another way to be One Loma Linda — to educate, motivate and support our many alumni and friends who anchor at least some of their identity around this place.
In closing I want to announce a significant leadership change here at Loma Linda University Health. Gerald Winslow has retired from his vice president position, but has agreed to carry on as director of our Center for Christian Bioethics, a position he previously filled. Our Board has appointed Randy Roberts as our new vice president for spiritual life and mission, to be assisted by Carla Gober-Park as his assistant VP. Both will also continue with their current responsibilities — Randy as senior pastor of Loma Linda University Church, and Carla as director of our Center for Spiritual Life and Wholeness. I am delighted with their commitment and the intended objective of further strengthening our spiritual and service programs and pulling the University Church closer to Loma Linda University Health through shared programming and space utilization. Join me in welcoming them to our Loma Linda team.
See you in March!
Cordially,

Richard Hart, MD, DrPH
President
Loma Linda University Health
Vision 2020: The Campaign for a Whole Tomorrow
*Blue Zone® is a registered trademark of Blue Zones, LLC, and refers to a place in the world where residents have much greater longevity. The community of Loma Linda was designated a Blue Zone in a National Geographic article by Dan Buettner.