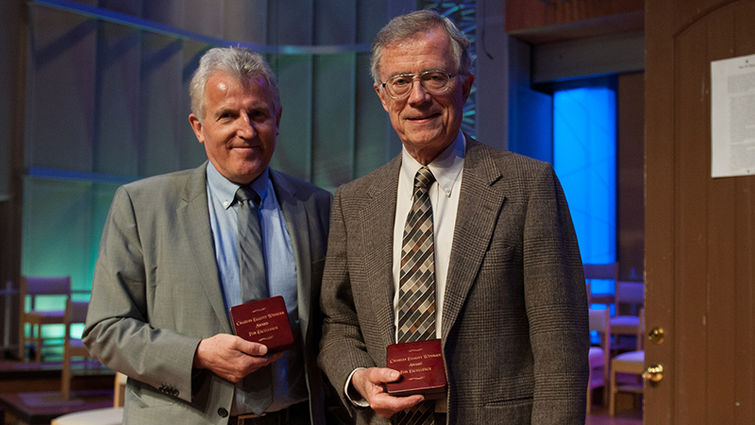 By Ansel Oliver
Two Loma Linda University figures were honored by the Charles E. Weniger Society over the weekend for their contributions to the Seventh-day Adventist Church.
Brian Bull, MD, an inventor and former dean of the School of Medicine, and Sigve Tonstad, MD, PhD, MA, a physician and author who maintains an appointment in the School of Religion, were each presented a Weniger Award in a ceremony at the society's annual meeting on Saturday, Feb. 18, at Loma Linda University Church.
The Weniger Award — named in honor of the late seminary dean and English professor Charles E. Weniger — has been presented to more than 160 prominent Adventists since the society was founded in 1974.  
Loma Linda University Health is an institution directly affiliated with the denomination's world headquarters.
Bull has written widely on the discord between science and religion, and served as a co-editor of papers from the Geoscience Research Institute conferences. His book God, Land and the Great Flood, a companion to his 2011 God, Sky and Land, is soon set for release.
While a resident at the National Institutes of Health, Bull came up with an algorithm that is now implemented in the software of every blood analyzer manufactured. He is also credited for increased monitoring of how cardiopulmonary bypass patents metabolize heparin to reduce post-operative bleeding. He also served for 10 years as editor of the international hematology journal Blood Cells.
At Loma Linda University School Medicine, Bull served as chair of the Pathology Department and program director for the pathology residency for more than 40 years. In addition, he served as dean of the School of Medicine from 1994 to 2003.
In his acceptance address Feb. 18, Bull showed his appreciation to the society and honored his late parents, who he said had mentored and inspired him and many other successful people.
"Thank you to the Weniger Society, and thank you Mom and Dad — you would [have been] pleased today to see just how far your influence has extended," he said.
Sigve, a physician and theologian originally from Norway, maintains an appointment in the Loma Linda University School of Religion and practices medicine in Oslo. He has written widely on world religions, the problem of suffering, and the literature of apostles John and Paul. His books include The Scandals of the Bible, God of Sense and Traditions of Non-Sense, and The Lost Meaning of the Seventh Day, which contains poetry. He is currently working on the Revelation volume in the Paideia New Testament Commentary Series.
"I am deeply honored to be a Weniger awardee," Tonstad said. "I take it as a generous affirmation of my work, and I also see it as a recognition of the continued and inexhaustible relevance of biblical literature."
Saturday's program also included award presentations for Alvin L. Kwiram, a physical chemist and researcher, and Verla Rae Kwiram, a businesswoman and gender equality activist.
"We are grateful for all the contributions our awardees have made to society and to the Adventist Church, and it is our privilege to honor them with this well-deserved recognition," said Bernard Taylor, the Weniger Society's president.