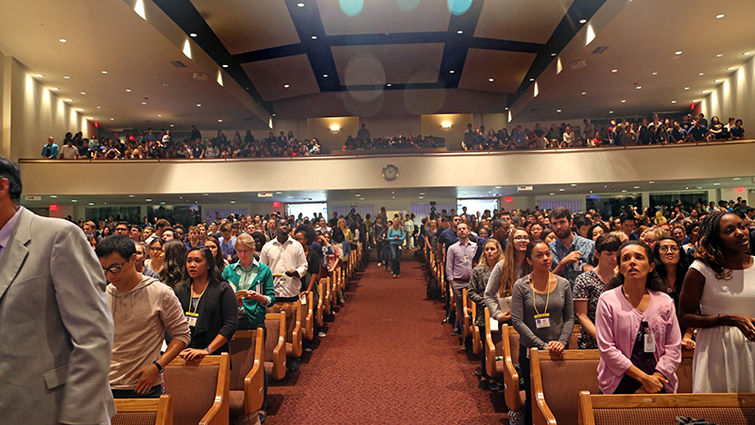 To convoke is to call together, to summon a group of people for a common purpose. It is in this spirit that Loma Linda University holds a Convocation service each autumn. Its design is to begin the academic year as a united campus dedicated to student growth and achievement — intellectual, spiritual and moral.
The formal event began with a processional of faculty members in full regalia, following which Provost Ron Carter, PhD, said, "Scholars, welcome to this very special meeting. … We are dedicating our entire organization to your academic success."
He noted that the Convocation service takes place in a church, indicative of the desire for students to find in their future professions not only a career, but also a calling.
Living according to calling was a theme of the Convocation address by President Richard Hart, MD, DrPH, who spoke on "Building Bridges." He noted that cultural chaos, societal disharmonies and the hopelessness experienced by many are factors Loma Linda University Health must face and fight.
"It is in this context that Loma Linda University Health, with its great diversity of people and backgrounds, is called to pursue its mission," Hart said. "Values that seem so outdated to many are still taught on this campus — justice, compassion, humility, integrity, excellence, freedom and self-control."
Loma Linda University Health needs to call forth "boldness of spirit and conviction" and "spend time building bridges of hope and empowerment for those with neither," Hart also said, explaining that this requires confronting personal and collective limitations. One way Loma Linda is doing this, Hart said, is through the work of its new Diversity Council to understand and bridge these issues. He paused to introduce members of the council who were present at Convocation.
"These representatives are available to listen to concerns and have committed to a nonjudgmental response that can bring healing to our wounds," he explained.
Healing wounds and creating a better future are the focus of the new Loma Linda University Health – San Bernardino campus. Hart noted the opportunity this affords for mutual exchange of learning and benefits, rather than only being a way to help the needy.
He said, "My hope is that this new campus will also be …. A place where we confront human need and find resources, where we can see the challenges and potential of those we care for, where a person's genetic code influences their lives more than their ZIP code.
"To accomplish this we are going to need to develop bridges. Not just bridges of intellect and clinical skills, but bridges of understanding and friendship."
The new students — in fact, the first-ever cohort — of San Manuel Gateway College (part of Loma Linda University Health – San Bernardino) are Loma Linda's newest colleagues in such endeavors, Hart noted. They were present at Convocation, and Hart introduced each one by name.
"Thank you," he told them, "for becoming our partners in these challenging times. Your understanding and relationships are crucial to our collective commitment to improve the health and well-being of our communities."
Following Hart's address came statements of commitment for the 2016–2017 school year. Randy Roberts, DMin, vice president for spiritual life and mission, prayed for faculty, staff and students to have the courage, conviction and compassion for effective service.
On behalf of faculty and staff, Eun-Hwi Cho, DDS, assistant professor, School of Dentistry, read a statement to students, pledging to nurture their intellectual curiosity, development into independent learners, desire for service, knowledge and personal Christian faith.
Representing students, Jonathan Portney, president of the Student Association, read: "We, the students, have come to prepare for our future. We bring inquisitive minds to grow in knowledge and wisdom. We bring our hearts to beat with compassion, integrity, justice, purity, self-control and the humility of Jesus Christ. We have come to learn how to make people whole. We are here to become whole ourselves."
Garrett Caldwell, DMin, executive director of public affairs, then read a blessing, including the words: "Today, we have made honorable commitments to ourselves, to one another and to God. Now receive the blessing of God as you live out your commitment to this place. May you be blessed with vigor and life abundant. May you be whole in body and have peace with God as you are made whole by His Spirit."
Following singing of the Loma Linda University school song, "Healing Love," the service ended with a prayer of dedication from Terry Swenson, DMin, MDiv, campus chaplain, and the faculty recessional.