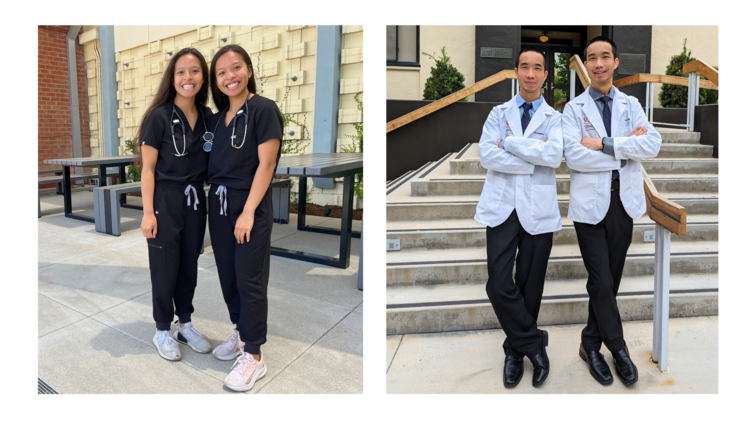 Two sets of local twins achieved their life-long dream of becoming doctors after graduating from Loma Linda University Schools of Medicine and Pharmacy on the same day.
 
Three commencement ceremonies with 437 graduates were held on Sunday, May 28, kicking off the university's graduation season. Five other schools and the San Manuel Gateway College will follow on Sunday, June 11.
The Bathan Twins
Twin sisters Lauren and Karen Bathan grew up in Loma Linda. Their parents are also LLU alums: their mother, a nurse practitioner, and their father, a physical therapy assistant. "Although our parents first influenced us to have a healthcare career, we decided to become doctors to lead patient care," Lauren said. 
 
Karen, older by one minute, says she and her sister only applied to LLU School of Medicine. "We wanted to be here," Karen said. "The culture of compassion and practice of whole person care was the perfect foundation for how we want to practice medicine."
 
Both sisters have a passion for mission service and are excited to continue to help the medically underserved locally and abroad.
The Sunday commencement ceremony marked the second time the Bathan twins graduated from LLU with identical degrees. They completed their undergraduate program in Clinical Laboratory Science at LLU School of Allied Health Professions.
The Chan Twins
Similarly, twin brothers Christopher and Luis Chan attended LLU School of Pharmacy after graduating from University of California Riverside with bachelor's of science degrees in biology.
 
Originally from Chino, the duo is the first in their family to attend university. "We knew in high school we wanted to become doctors," Luis said. "After volunteering at Pomona Valley Medical Center in college, we knew pharmacy was the right career path for us."
 
Born to immigrant parents from China and Hong Kong, the brothers are practicing Buddhists. They say they applied to LLU because it was California's only faith-based academic health sciences center. "We chose LLU School of Pharmacy after interviews with other schools because everyone was so welcoming here," Christopher said. "The faculty truly cared about our success — we weren't just another candidate like other places."
The Chan twins say attending weekly chapel services throughout their program was essential to their student experience and, ultimately, their success. "Having the opportunity to integrate our faith practice as part of our studies helped us get through," Luis said. "Although our religions are different, we are connected to God and believe in the mission to Make Man Whole."
The Best Thing
Both sets of twins agree the best thing about going through a doctoral program together is the built-in support network, study partner and assignment accountability. "And second helpings of treats when they confuse you for the other twin and offer you more," Luis said.
What's Next
Lauren is pursuing an Internal-Medicine Pediatrics (Med-Peds) specialty and has been matched to a residency program at University of Illinois College of Medicine Peoria. At the same time, Karen will complete an Internal Medicine residency at Kaiser Santa Clara in Northern California. 
 
Christopher will be completing a PGY-1 pharmacy a residency program in Acute Care at Pomona Valley Hospital Medical Center this fall. Luis will start working in a local community pharmacy this summer.
Answer Your Calling at LLU
Are you interested in a healthcare or health sciences career? Visit llu.edu to find your program.